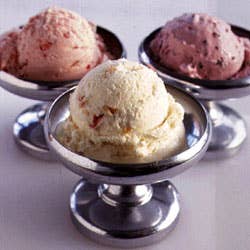 Who can resist the cool, creamy temptation of a dish of ice cream or gelato, gently melting in your mouth with each spoonful? Or the refreshingly icy crunch of a tart-sweet Italian ice? Or a smooth and tangy sorbet, infused with the flavor of exotic fruit from some far-flung corner of the world?
We can't, especially when the summer sun scorches and a cold drink doesn't provide the gustatory satisfaction we crave. That's when we head for the kitchen to whip up something frosty. If you want some good old-fashioned homemade ice cream, head to the market and pick up some fresh fruit for our Strawberry, Blackberry, and Peach ice cream recipes. For something with international flair, visit The Empire of Ice Cream and read about Sicilian mastery of the art of the frozen dessert—and don't miss our recipes for authentic Chocolate and Pistachio gelato.
If you're feeling adventurous, explore all your options with our Talking Ice Cream glossary, and our worldwide round-up of frosty treats, Ice Cream Around the World. From bombe to Tofutti to ais kacang, we give you the full scoop on all things cold and delicious.