Recipes
Peach Ice Cream Recipe
Save time and give this essential summer dessert a slight blush by leaving the peel on the fruit.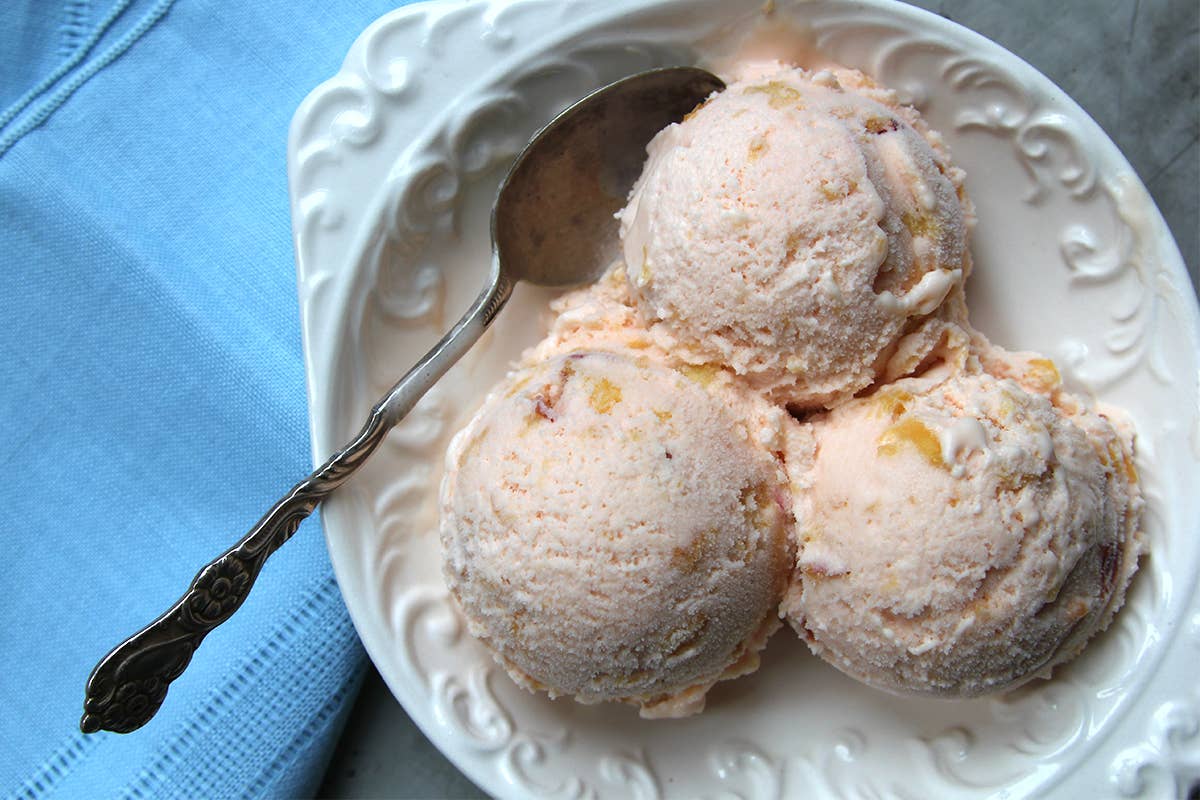 Use the freshest, ripest, and sweetest peaches available for this simple custard-style ice cream. Leave the peel on the fruit for a rosy-pink blush.
Ingredients
1½ cups whole milk
2 large eggs
2 large egg yolks
1¼ cups sugar
1¼ cups heavy cream
2 cups coarsely chopped, pitted peaches
1 tbsp. fresh lemon juice
Instructions
Step 1
Set a large double boiler over medium heat and bring to a gentle boil. Add the milk and bring just to a simmer.
Step 2
In a medium bowl, whisk together the eggs, egg yolks, and ¾ cup of the sugar. Lightly whisk ¼ cup of the hot milk into the egg mixture, then whisk the entirety of the egg mixture into the remaining milk in the top of the double boiler. Cook, stirring continuously with a wooden spoon, until the mixture is thick enough to coat the back of the spoon, about 15 minutes.
Step 3
Transfer the custard to a large, metal bowl, stir in the heavy cream, cover with plastic wrap, and refrigerate until very cold, at least 4 and up to 24 hours.
Step 4
In a large bowl, stir together the peaches, the remaining ½ cup sugar, and lemon juice. Cover with plastic wrap and refrigerate for at least 2 and up to 24 hours.
Step 5
Set a strainer over the bowl with the cream base. Pour the peach mixture through the strainer (return the strained peachest to the fridge), and stir the peach juices into the cream base. Pour the chilled base into an ice cream maker and process according to the manufacturer's directions. Scrape the ice cream into an airtight container and freeze until nearly firm, about 2 hours, then fold in the strained peaches. Return the ice cream to the freezer until fully set, about 2 hours. Scoop into bowls and serve immediately.