Peach Ice Cream Recipe
Leave the peel on the fruit for a rosy-pink blush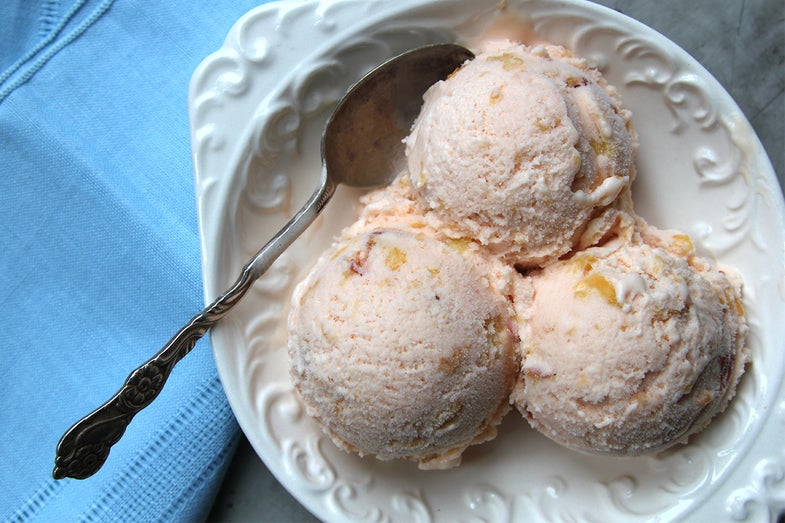 This peach ice cream recipe is pure, simple, and flavored with the freshest peaches available. For us, it defines the summer season.
Peach Ice Cream
For an ice cream with a rosy-peach blush, leave the peel on the fruit.
Ingredients
1 1⁄2 cups whole milk
2 eggs
2 egg yolks
1 1⁄4 cups sugar
1 1⁄4 cups heavy cream
1 pint ripe peaches, chopped, with peel on
Juice of 1/2 lemon
Instructions
Place milk in the top of a double boiler and bring just to a simmer over gently boiling water over medium heat.
Meanwhile, whisk together eggs, egg yolks, and 3⁄4 cup of the sugar in a mixing bowl. Lightly whisk 1⁄4 cup of the hot milk into egg mixture, then whisk egg mixture into remaining milk in top of double boiler. Cook, stirring constantly with a wooden spoon, until mixture is thick enough to coat back of a spoon, about 15 minutes.
Transfer mixture to a mixing bowl; stir in 1 1⁄4 cups heavy cream; refrigerate until cold.
Combine peaches, remaining sugar, and lemon juice in a mixing bowl; the peel will add a rosy color. Cover and refrigerate for 2 hours.
Drain and stir accumulated peach juices into cream base (return fruit to the refrigerator). Pour base into an ice cream maker and process according to manufacturer's directions. Just before mixture is set, add peaches.