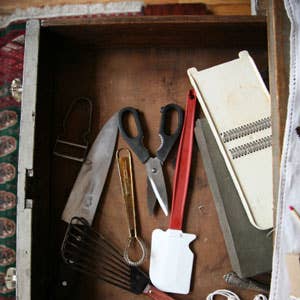 Techniques
Essential Kitchen Tools
Here are seven that deserve to be permanent residents of every home cook's tool drawer.
The thin, flexible NOGENT CLASSIC KITCHEN SPATULA slips easily under delicate items like fish filets and turns them without breaking them. Since it's both slotted and heatproof, it's also ideal for extracting food from frying oil.
The utilitarian, Swiss-made R. H. FORSCHNER BY VICTORINOX CHEF'S KNIFE sells for about half the price of other popular chef's knives. The rosewood handle is lightweight, and the high-carbon stainless-steel blade is easy to sharpen.
Invented by a Swiss army veteran named Alfred Neweczeral in the 1940s, the ZENA STAR ECONOMY PEELER is still the sharpest and most comfortable one we've found. A nifty U-shaped attachment near the blade removes potatoes' eyes with a flick of the wrist.
Long-lasting stainless-steel WÜSTHOF KITCHEN SHEARS are indispensable for a wide range of kitchen tasks. They're muscular enough to separate a whole chicken into its parts and refined enough to snip delicate herbs and salad greens.
When we need a perfect julienne, we turn to the German-made BÖRNER THIN JULIENNE CUTTER, which is far safer to use than a traditional mandoline, rests securely atop a bowl, and produces utterly uniform pieces.
The heavy-duty silicone RUBBERMAID HIGH HEAT SCRAPER AND SPATULA can be used for tasks like scraping out a bowl, frosting a cake, or folding egg whites into a batter, and with its exceptional heat resistance (up to 500 degrees), it also comes in handy while you're sauteing.
A simple stainless-steel coil wrapped around a curved wire, the diminutive COMBRICHON "MAGIC" SPOON MINI WHISK is dandy for scraping up caramelized bits from a saucepan's hard-to-reach corners and for whisking drizzles of cream or eggs into sauces.