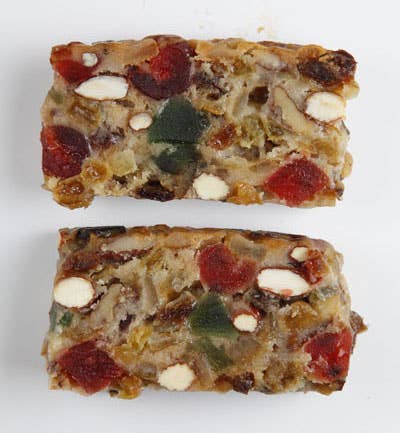 Recipes
Fruitcake Forensics: Deconstructing Christmastime's Iconic Dessert
"Fruitcake is December's biggest mystery," writes reader Penny Baron from Los Osos, California. "Can you explain it?" We sure can.
HISTORY
Ancient Egyptians left fruit-and-nut cakes in graves, and Roman mixed raisins, pine nuts, pomegranate seeds, and honeyed wine into barley cake called satura to feed soldiers. Starting in the 1400s, much-prized dried fruits and nuts were traded westward to England, where they were baked into cakes for special occasions—particularly Christmas.
FRUIT
Dyed red and green, glace cherries and pineapple sweeten and moisten store-bought fruitcakes and lend them their holiday hues. For a less cloying cake, dried fruits—apricots, peaches, or, as in antiquity, figs and dates—are used. For boozier versions, fruits are first marinated in liquor.
NUTS
In 18th-century Europe, fruitcake was eaten around the winter solstice to mark the annual nut harvest. Together, fruits and nuts—almonds, walnuts, pecans—account for upwards of 70 percent of a fruitcake's density.
AGING
Rum, brandy or other liquor is added to the batter or "fed" to the bathed fruitcake over time through holes in its underside or via a liquor-soaked cheesecloth wrapper. The alcohol preserves the cake, which lasts for months in the fridge; aging melds the cake's myriad of flavors.
DARK VS. LIGHT
Dark fruitcake includes molasses and brown sugar, black fruits like currants, and dark liquors. Often meant to be eaten before they've aged, light cakes (like the one shown) are made with granulated sugar or light corn syrup, and golden and yellow fruits, with or without light liquors.
SPICES
Anise and cumin seasoned the first fruitcakes. Allspice and cloves are more commonly used today, particularly in dark fruitcakes, while light cakes might take ginger and vanilla. Candied citrus peels add zing.