In Praise of the Cast Iron Skillet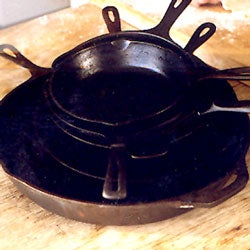 Great instinctive cooks create some of the most amazing food you've ever eaten. Though their backgrounds, styles, and ingredients invariably differ, virtually all reach for the same pan above all others—the cast-iron skillet.
Cast iron is an ideal cooking vessel. It's a slow, even conductor of heat, so food browns beautifully. You can bake in it, fry in it, saute and sear in it. In fact, one of the best ways to cook a thick filet of cod or tuna, or even sea scallops, is to get the skillet very hot, brush the fish with a tiny bit of oil, then sear the fish or scallops for just two minutes on each side, so that it gets brown and crisp outside but stays moist inside.