It Slices, It Juliennes, It Shreds Like the Pros Do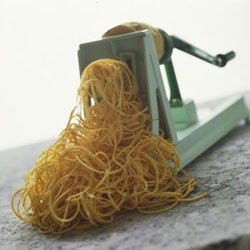 We may earn revenue from the products available on this page and participate in affiliate programs.
One night in Los Angeles in the late 1980s, sitting in Michel Richard's Citrus restaurant, we watched in amazement as beet after beet, then sweet potatoes, then horseradish came spewing out of a slicing device we'd never seen. The vegetables were turned magically into delicate julienne strands, thin as rice noodles. Richard quickly fried them as an enticing garnish. Since that night, we've wanted such a slicer, and finally located a simple Japanese home model, the Benriner Turning Slicer, made by the Benriner Company—in a rather questionable shade of green, but otherwise up to the task.