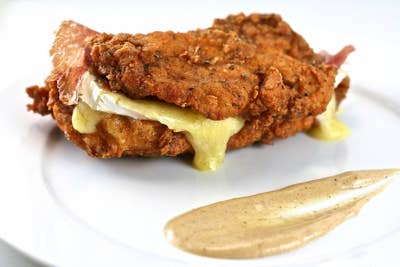 When KFC introduced the Double Down, a breadless sandwich of cheese and bacon held together between two fried chicken breasts, they did so on April Fools' Day, 2010. It was a fitting launch date, with much of the media dismissing the menu addition as just a bombastic hoax to drum up business. But no, this Atkins dieter's dream was not only real, it was a success—initially launched as a limited-run sandwich, it's now a permanent part of the KFC menu.
The furor surrounding the Double Down has been impressive: Critics blasted its sodium levels (massive), its calorie content (a relatively modest 540), even its lack of bread: Kevin Pang of the Chicago Tribune went so far as to call it a "meat-glorb." But behind the hype and the This Is Why You're Fat-esque pandering, this "sandwich" has a surprising lineage, and I was determined to make a superior version at home that would do it justice.
When I mentioned to my editor that I wanted to develop a better version of the Double Down, she pointed out that the "meat-glorb" is actually just a fast-foodified version of the 1960's fine-dining classic chicken Cordon Bleu. After my first interaction with the bun-less sandwich, I was on board with that hypothesis. Chicken Cordon Bleu is a flat-pounded chicken cutlet wrapped around ham and cheese, the whole thing dipped in breadcrumbs and fried; what sat in front of me in that KFC wasn't too far off: two pieces of good old "11 herbs and spices"-fried chicken breasts held together by melted cheese, a few strips of bacon, and a spicy orange "secret" sauce.
Sadly, the Double Down didn't quite live up to its storied inspiration. The chicken was dry and overcooked; the peppery cheese, a blend of Monterey and Pepper Jack, was limp; the bacon was barely noticeable; and the spicy, sour sauce didn't help. As with our previous adventures with the McRib, almost everything about the Double Down recipe has room for improvement.
The most important component of the Double-Down is the chicken. To ensure that the meat wouldn't dry out during frying, I soaked halved chicken breasts overnight in a lemony brine, as well as let them sit for an hour after breading and before frying. For the breading, I went literal with KFC's famous "11 herbs and spices," mixing the flour with practically the entirety of my spice rack in order to give the crust the proper flavor.
I swapped out KFC's blend of cheeses in favor of a generous hunk of double cream Brie, a simpler, cleaner flavor that retains that lovely gooey texture of the original. While a heartier bacon would be a smart replacement for KFC's limp strips, three slices of the legendary Jamon Iberico Bellota is even better, its funky, meaty flavor is perfect against the savory chicken, and the luxury of this rare, famous ham pushes it over the top. Inspired by the quasi-French origins of the sandwich, the finishing touch comes with the sauce: I made a Dijon-based sauce moutarde that brings a sourness and acidity to cut through the rich chicken, cheese, and bacon, without the off-putting spiciness of the KFC sauce.
There's no doubt that making your own Double-Down at home is a bigger hassle than going through a drive though at KFC, but which version would you rather eat?
Ryan Adams is the blogger behind Nose to Tail at Home, where he's working his way through Fergus Henderson's book The Whole Beast: Nose to Tail Eating. He lives near Austin, Texas.