Make Your Own McRib: Bigger, Better, and Always Available
Who needs fast food when you've got a recipe for slow-cooked pork belly, quick dill pickles, and a tangy homemade barbecue sauce?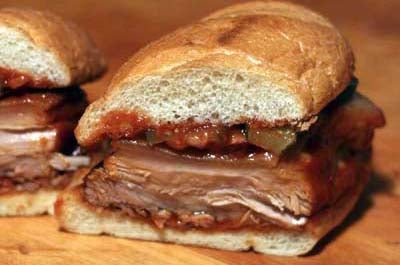 Last week, McDonald's reintroduced the McRib — its cultish take on a barbecue pork sandwich— to its menu for, as they say, a limited time only. First introduced to the fast-food canon in the early '80s, the McRib fared poorly and was pulled after a few years, only to be brought back every so often to much hype and popular obsession. Even when it's not available, it gets a fair bit of airplay from fans and enemies alike. This little sandwich with just five components — sandwich roll, onions, pickle slices, barbecue sauce, and a single hunk of pork — lands so much attention. And yet it could be so much better! I was inspired to make a superior version right at home.
After a quick trip to McD's, I broke the sandwich down. A very standard-issue six-inch white-flour roll with a dusting of cornmeal on top, lightly toasted. A scattering of raw white onion slivers, which add flavor and crunch. Exactly two dill pickle slices — not three, not five, just two. A slathering of sweet, tangy, tomato-based barbecue sauce with hints of smoke, almost St. Louis style. And the heart of the sandwich, a boneless, flavorless pork patty preformed to look sort of rib-ish, with ridges implying a rack of baby backs. (I have to admit that, to its credit, the meat was terrifically moist, which is probably due to the amount of fat in there.)
Starting with that fatty cut of pork, I decided to reinterpret the McRib using pork belly, which, over the course of a three-hour braise, turns from a three-pound cut into something like the preformed pork patty's blindingly spectacular cousin. While it cooked, I made a quick pickle and a simple barbecue sauce from scratch, and sliced some red onions — sweeter than the white — to add even more crunch. I stuck with store-bought rolls, but you could easily up the homemade factor and make your own basic white sandwich roll or go really indulgent with a brioche. Sure, it might take a little more time than simply popping down to your local McDonald's for a McRib, but you'll never have to worry about whether it's been taken off the menu. Here's how to make it:
See the recipe for Barbecue Pork Belly Sandwich with Quick Dill Pickles and Red Onions »
Gallery: Step-by-step photos: How to Make Your Own McRib
Ryan Adams is the blogger behind Nose to Tail at Home, where he's working his way through Fergus Henderson's first book The Whole Beast: Nose to Tail Eating. He lives near Austin, Texas.