One Ingredient, Many Ways: Farro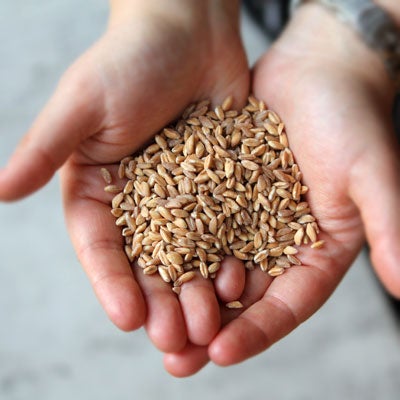 Food inspiration can come from anywhere. But for generations of American food lovers, Europe — particularly France and Italy — have existed at the center of our culinary lust and imagination. For some it was the first taste of a buttery croissant anointed with glistening jam, or the allure of boeuf Bourguignon simmering over the television waves courtesy of Julia Childs' capable hands. For others, it was a bite of cacio e pepe or espresso-scented Tiramisu so simple and deeply flavored, it forever changed the way they thought about food.
For me it was a bowl of farro — a plump whole grain the color of maple syrup, which I first sampled on a 2004 trip to Tuscany. Resting below a jumble of zucchini and shaved Parmesan, it resembled brown rice but tasted nothing like the gelatinous grains that weighed down the earnest bowls of stir fry I ate throughout college. It was toasty and nuanced with a firm, nubby bite and just a hint of malty flavor. Spooning my way through the dish felt at once thrilling and intuitive — the culinary equivalent of my first breathless teenage reading of On the Road.
It is no coincidence that my farro experience took place in Italy. An ancient grain of the wheat family, farro was one of the first crops to be cultivated in the Fertile Crescent some 10,000 years ago. Once a staple throughout the Near East, Africa, and parts of Europe, farro's use waned with the rise of modern durum wheat varieties. Northern Italy, where farro endured as part of their peasant cuisine, was one major exception.
While farro has received a smattering of stateside attention in recent years, particularly in high-end restaurants, the love affair is just beginning. Farro has become increasingly easier to find in stores and at farmers' markets, and is the darling of heritage grain farmers like Cayuga Pure Organics in New York, Anson Mills in South Carolina, and Bluebird Grain Farms in Washington State. During the late winter, while the seasonal produce selection is at its most desolate, storage-friendly whole grains like farro help keep things interesting. Try adding it to rustic soups, dressing up cooked farro with an herb-filled vinaigrette, or exploring the grain's sweet side in quick breads, puddings or mousse. Whole farro comes encased in its husk, making it more time consuming to prepare than rice or pasta. Soaking the whole farro grains in cold water for an hour or two before boiling, or substituting semi-pearled (also called semi-perlato) farro, which has some of the husk removed, will reduce cooking times from an hour to about 30 minutes. But any way you prepare it, farro is worth the wait.
SAVORY
Farro Risotto
This wintry risotto is rich with butternut squash, mushrooms, and sage.
Cranberry Bean and Pearl Barley Soup
Fresh sage, parsley, rosemary and basil add an herbaceous kick to this rustic soup.
Gourmet: Mushroom and Farro Pie
Farro and mushrooms are bound together with rich ricotta inside this flaky pie.
Bon Appetit: Dirty Farro
The spicy Cajun classic gets an Italian accent when farro is substituted for rice.
Bluebird Grain Farms: Emmer "Cornbread" and Sausage Stuffing
Try this hearty, flavorful take on traditional stuffing.
NY Times: Farro and Fresh Tomato Soup with Basil
This simple stew-like soup features farro, leeks and lots of fresh tomatoes.
Press Democrat: Braised Beef Shanks with Farro Chard and Beet Greens
Farro makes a deliciously hearty side for meltingly-soft braised beef shanks.
SWEET
Cranberry Farro Quick Bread
Grains of cooked farro add substance and nuttiness to this moist, honey and brown sugar-sweetened quick bread.
CHOW: Coconut Farro Porridge with Mango
Spice up your oatmeal routine with this sweet and creamy farro breakfast porridge.
Domenica Cooks: Baked Farro Pudding
This sweet pudding is baked for several hours in a low temperature oven yielding a creamy, luscious dessert.
Anson Mills: Ricotta Mousse with Candied Fruit and Farro
Farro takes a turn towards the sophisticated in this sweet, fruit-studded mousse.
Leah Koenig is a freelance writer and author of The Hadassah Everyday Cookbook: Daily Meals for the Contemporary Jewish Kitchen