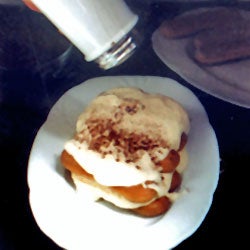 Apparently invented not in Venice itself but in the Veneto, at the Treviso branch of El Toula—a hotel restaurant noted for its good cooking—this simple dessert has become so famous in America that it seems to appear on every menu in the land. The word literally means "pick-me-up"—perhaps a reference to its caffeine content.
Yield: serves 4
Ingredients
2 eggs, separated
1⁄2 cup sugar
1⁄2 cup mascarpone
1 cup strong fresh black coffee (not espresso)
12 good-quality Italian savoiardi cookies or ladyfingers
Cocoa powder
Instructions
Beat egg yolks with a whisk in a medium bowl. Gradually add sugar, continuing to whisk until mixture is thick, smooth, and pale yellow. Gently fold mascarpone into mixture with a rubber spatula, then set aside.
Put egg whites in a clean, dry mixing bowl and beat with a whisk until stiff, but not dry, peaks form. Fold egg whites into mascarpone mixture and set aside.
Pour coffee into a wide, shallow bowl. Dip 4 of the savoiardi or ladyfingers into the coffee just long enough to moisten them without making them soggy, then arrange them side by side in a single layer on a serving platter.
Spread one-third of the mascarpone mixture over the biscuits, then dust with a little cocoa powder. Repeat the entire process, including coffee, layering remaining savoiardi or ladyfingers, mascarpone, and cocoa. Refrigerate until well chilled, then serve.