One Ingredient, Many Ways: Rhubarb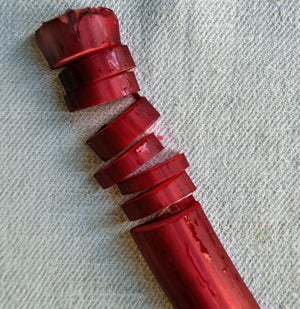 My mother was our household's primary cook while I was growing up, and she is allergic to rhubarb's most faithful companion: strawberries. Her severe aversion (she recoils at a mere mention of the crimson fruits) meant no strawberry-rhubarb jam to spread on our toast, and certainly no strawberry-rhubarb pie with its sweet-tart juice running like a river underneath a layer of butter-browned crust. Without a classic like that — in America, rhubarb is colloquially known as "pie plant," after all — what do you have left?
As it turns out, quite a lot. After leaving my parents' house and establishing my own home where strawberries were welcomed, I also opened my kitchen to rhubarb. In the spring I regularly picked up bunches of the sour, blushing stalks at the farmers' market, and back home I stripped off their crown of toxic leaves, then simmered hunks of the fruit with lime zest, ginger and sugar until it softened into pink compote, perfect for topping rice pudding, yogurt, or ice cream. Other times I'd take a cue from the British (among the first culture to elevate rhubarb from medicinal plant to culinary champion) and baked it into glistening tarts. And of course, I made lots of strawberry rhubarb pies, happily enjoying the previously forbidden pairing.
More recently, I learned of rhubarb's applications beyond dessert. In some countries, rhubarb is treated as a savory vegetable — in Poland, it marries with potatoes and mushrooms in a gratin. Rhubarb's lemon-sour flavor also blends well with fish and meat dishes, and it's a tart addition to soups. The vibrant red-green stalks can typically be found in the markets from early spring through mid-summer, and I plan to indulge accordingly.
SWEET
Rhubarb Muffins with Almond Streusel
Sour cream and lemon zest support tart rhubarb in streusel-topped muffins, while vanilla seeds and brown sugar mellow its edge.
Rhubarb Pie
A specialty in Iowa, this pie is made with fresh rhubarb when in season, although frozen will do when not in season. Finish it off with a scoop of vanilla ice cream.
Strawberry Rhubarb Pie
This classic springtime baked good gets its complex flavor from tart rhubarb and sweet strawberries.
Yogurt Parfait with Vanilla Rhubarb Compote
Breakfast is a lot more interesting with vanilla-scented rhubarb topping your yogurt.
Stewed Rhubarb
Serve sugar-sweetened rhubarb with creamy ricotta.
Bluebarb Pie
Blueberries replace the more commonly-found strawberries in this pie.
Rhubarb Ginger Crumble
Spicy ginger is the perfect foil for rhubarb in a sweet crumble.
Strawberry Rhubarb Jam
Enliven your morning toast with a spoonful of bright red jam.
Rhubarb Custard Pie
This rustic custard pie is commonly found in the American south.
Sweet Brown Rice Pudding with Rhubarb Ginger Compote
Top sweet and creamy rice pudding with tart and spicy rhubarb compote.
Rhubarb Financiers with Vanilla Ice Cream and Poached Rhubarb
Rhubarb's flavors shine beautifully in this sophisticated dessert.
SAVORY
_The Daily Spud:_Rhubarb Potato Gratin
Top rhubarb, potatoes and mushrooms with savory bread crumbs for a delicious gratin.
_Food 52:_Bison Flank Steak with Rhubarb
Marinated steak gets cooked with rhubarb, bourbon and spices for a tangy main dish.
_Bon Appetit:_Roasted Salmon with Rhubarb and Red Cabbage
Top sauteed rhubarb and cabbage with roasted salmon.
_La Cucina Italiana:_Sweet and Sour Rhubarb Soup
This unusual rhubarb soup is enriched with bread.
The Guardian: Beetroot and Rhubarb Salad
A delicious spring salad by Israeli-British chef Yotam Ottolenghi.
DRINK
** Strawberry Rhubarb Smash**
The iconic spring pair is mixed with bourbon and mint in a refreshing spring cocktail.
Whiskey Rock-A-Roller
Rhubarb bitters and strawberry liqueur add depth of flavor to this drink.
Leah Koenig is a freelance writer and author of The Hadassah Everyday Cookbook: Daily Meals for the Contemporary Jewish Kitchen.