Recipes
Port-Poached Rhubarb with Vanilla Ice Cream and Rhubarb Financiers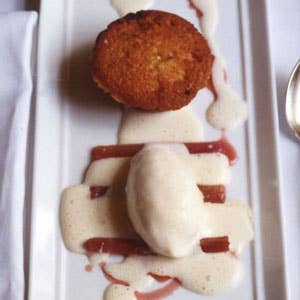 This is an adaptation of a dish former SAVEUR editor-in-chief Colman Andrews enjoyed at Chapter One in Dublin, Ireland, during his 2006 odyssey to discover true Irish food.
Ingredients
For the Vanilla Ice Cream
2 cups milk
4 vanilla beans, split in half lengthwise, seeds scraped
1 coffee bean, crushed
7 egg yolks
3⁄4 cup sugar
1 cup heavy cream
For the Poached Rhubarb and Serving
1⁄2 cup grenadine
1⁄2 cup port
1 vanilla bean
1 tbsp. sugar
2 stalks rhubarb, cut crosswise into 3-inch pieces, each piece then cut lengthwise into 3 pieces
<a href="https://www.saveur.com/rhubarb-financiers-recipe">Rhubarb/ Financiers</a>, for serving
Instructions
Step 1
Make the ice cream: Put milk, vanilla bean pods, and coffee bean into a medium pot and bring just to a boil over medium-high heat. Transfer mixture to a medium bowl, cover, and set aside to let infuse for 15 minutes. Return milk to pot and bring back to a boil over medium-high heat. Strain milk, discarding solids.
Step 2
Put vanilla seeds, egg yolks, and sugar into a medium bowl and whisk until pale and frothy, about 2 minutes. Pour one-third of the hot milk mixture into bowl, whisking rapidly, until combined. Pour remaining milk in slowly, whisking until combined. Put mixture into same pot and cook over medium-low heat, whisking constantly, until temperature on a candy thermometer reads 185°. Remove pot from heat and whisk in cream. Strain mixture twice through cheesecloth to remove the vanilla seeds. Chill, then process mixture in an ice cream maker according to manufacturer's directions. Freeze until hard.
Step 3
Make the poached rhubarb: Put grenadine, port, vanilla bean, and sugar into a small pot; bring to a boil over medium-high heat. Reduce heat to medium-low, add rhubarb, and poach until tender, 6–8 minutes. Transfer rhubarb to a plate and discard vanilla pod. Increase heat to medium and reduce syrup to a thick glaze, 12–15 minutes.
Step 4
Drizzle eight warm plates with rhubarb glaze. Arrange a warm Rhubarb Financier and 3 pieces of rhubarb on each plate. Top rhubarb with a quenelle of ice cream and let ice cream melt slightly before serving.