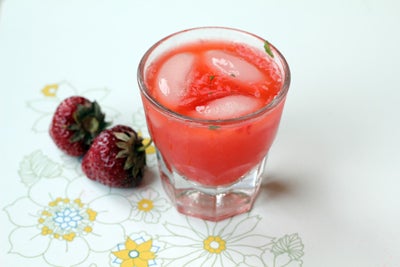 Jenny Lee-Adrian, who adapted this cocktail from one served at the NYC restaurant Little Giant, describes the combination of strawberry, rhubarb, and bourbon as "spring in a glass."
Strawberry Rhubarb Smash
Cocktail recipe for a refreshing summer smash flavored with bourbon, lemon juice and rhubarb simple syrup.
For the Rhubarb Simple Syrup
4 stalks rhubarb
1⁄2 vanilla bean
4 cups water
4 cups sugar
Instructions
Wash rhubarb, trim the ends and cut into ½" pieces. Place the fruit and sugar in a 4-qt. pot and cover with 4 cups of water. Scrape the seeds of the vanilla bean into the pot and add the bean to the water. Bring to a boil. Then reduce heat to a low simmer. Cover and cook for 20 minutes, stirring occasionally. Remove from heat. Pour syrup into a bowl and cool in an ice water bath. Strain through a fine-mesh strainer.
---
For the Cocktail
3 lemon wedges
3-4 mint leaves
1 oz. rhubarb simple syrup
1 1⁄2 oz. bourbon
1 1⁄2 oz. strawberries, washed and hulled
Sprig of mint for garnish
1 strawberry for garnish
Instructions
Muddle the lemon, mint, strawberries and rhubarb simple syrup in the bottom of a mixing glass. Add ice and bourbon. Shake and strain into a highball glass filled with ice. Garnish with a sprig of mint and a strawberry.