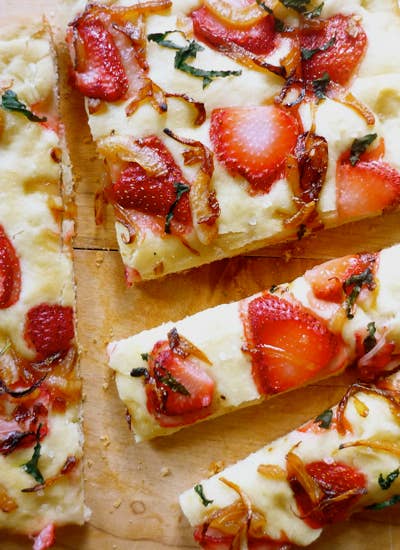 Ramps and fiddlehead ferns, two plants that herald the giddy arrival of spring produce, have enjoyed a lot of attention from seasonally minded cooks over the last few years. But my heart belongs to a different springtime beauty: the strawberry. I love how strawberries seem to burst onto the farmer's market scene, brazenly, unapologetically red amongst the gentle early spinaches and tender asparagus stalks. After months of sleepy, gray-toned winter, the berries' bold color and deep sweetness seem almost otherworldly - the edible equivalent of Dorothy opening up her front door into a Technicolor Oz.
Strawberry season, which typically arrives between April and June (depending on where in the country you live), lasts a few fleeting weeks. During that time I go into strawberry-eating overdrive, packing as many juicy, ruby colored berries into my meals as possible. Whether shopping at the farmers' market or the grocery store, always look for firm, ripe fruits free of bruises and mold. Store strawberries in the refrigerator in a container lined with paper towels, and wait to wash them until just before serving.
Strawberries play exceptionally well with other foods; they're a surprisingly versatile fruit, equally at home in sweet and savory dishes and easily incorporated into every course from soup to after dinner drinks. Our favorite recipes, like the ones below, play it simple: relying on a few, key supporting ingredients to draw out the strawberries' sweet-tart essence.
Rhurbarb Strawberry Jam
Rhubarb, a reddish pink vegetable that grows in celery-like stalks and is harvested through the late summer, has a pleasing tartness, so it pairs well with sweet strawberries in a jam.
Strawberry Tart
A shortbread crust is the perfect complement to the season's sweetest, juiciest strawberries.
_ Smitten Kitchen:_ Strawberries and Dumplings
This deconstructed crumble is an elegant interpretation of a familiar dessert; add fresh whipped cream for a new take on strawberry shortcake.
Strawberry Risotto
This unusual risotto is an ideal way to salvage those not-so-sweet berries sold out of season from October to May.
Food52: Strawberry Teriyaki Sauce
The classic Asian-inspired sauce gains fruity depth thanks to pureed strawberries and tart lemongrass.
Strawberry Moonshine Julep
The crisp flavor of clear spirit finds a tangy counterpoint in briefly macerated strawberries, sweeter and juicier than berries used fresh.
_ The Kitchn:_ Homemade Strawberry Milk
A childhood favorite worth revisiting, this drink is the essence of early summer in a glass.