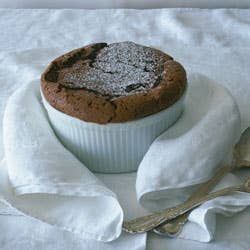 Techniques
Perfect Chocolate Soufflé
Even at the Cordon Bleu, a chocolate souffle; falls before it rises.
I'd only been at the Cordon Bleu in Paris for a few weeks when Chef Michel Cliche announced that our next lesson would be making a souffle au chocolat. Up to that point, I'd managed most of the dishes we'd been assigned with little difficulty—even, I liked to think, with a certain flair. But the thought of tackling this regal dessert brought on an instant surge of what-am-I-doing-in-cooking-school anxiety.
Sure enough, my first attempt emerged at a jaunty but unsouffle-like angle. ''Uneven rise,'' Chef flatly diagnosed. My second try was a feeble, sticky pancake. ''Overwhisked whites,'' Chef accused, arching a disapproving eyebrow. My next several efforts were all tasty but, in varying degrees, fluffy failures. Chef accompanied our endeavours with a brief recitation of souffle history: The first recipes, which appeared in the early 1800s, weren't chocolate; they weren't even sweet. Most early souffles—the name comes from the French verb souffler, to blow or to whisper—were flavored with pureed meat or game. Dessert versions came later.
Then Chef let us in on the secret to souffle success: Perfectly whisked whites, he said, start with a perfectly clean bowl; even the smallest speck of grease can deflate the volume. The bowl, therefore, should be cleaned with lemon juice, carefully rinsed, and thoroughly dried. And simply wiping away the butter and sugar from around the top of the inside of the souffle dish prevents the batter from slipping as it rises.
I tried it his way, and pulled from the oven what I took to be a masterpiece. It was tall, dark, flat on top, and quivering ever so slightly. I beamed as I gingerly placed it on a doily. Chef just shrugged. ''Pas mal,'' he said.