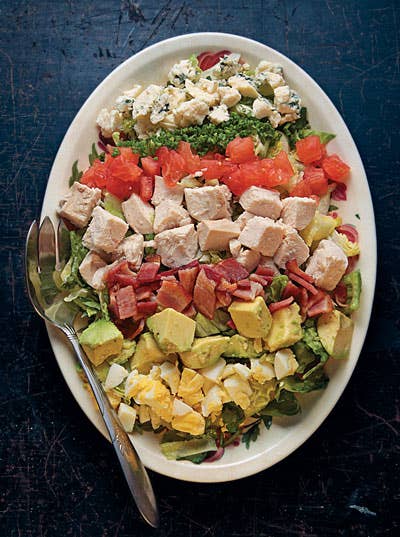 Culture
Salad City
Dining trends come and go, but the chopped salad endures.
I grew up in Southern California, where the salad-as-main-course is accepted as an article of faith, but it wasn't until I moved to Los Angeles that I truly grasped the phenomenon—native to this city and as ubiquitous as ever—that is the chopped salad. One lunchtime a few months ago, I sat in a red leather booth at the restaurant La Scala, a Beverly Hills institution since 1956, and watched as nearly every waiter emerged from the kitchen carrying the same thing: a pale green, perfectly domed mound that turned out to be the Jean Leon Original Chopped Salad (see ** Leon Salad**). Named for the restaurant's original owner, it is believed—by some—to be the first salad of its kind.
At its most fundamental, a chopped salad is one in which the ingredients are cut down to a uniform size and tossed, either in the kitchen or at the table, so that every bite delivers all the flavors of the salad at once. According to Gigi Leon, the daughter of Jean and the current owner of La Scala, the chopped salad was born at the restaurant in the early 1960s, when customers decided that its Gourmet Salad—a mixture of iceberg lettuce leaves, salami, mozzarella, and marinated chickpeas—was too messy to eat and began requesting that it be chopped in the kitchen. Today the ingredients are tossed and placed on a cutting board, at which point a cook holding two large knives in one hand proceeds to chop them samurai style, reducing them within 30 seconds to a homogenous pile about a third its original size, which is then drizzled with a dressing of olive oil and red wine vinegar and topped with chickpeas. Before the diner has taken the first bite, the chef has probably chopped and plated several more orders: the restaurant serves some 400 a day, which means that eight out of ten customers order it.
Another contender for the "original chopped salad" title ( see ** Cobb Salad**) is the one invented in 1937 by Robert H. Cobb, the owner of LA's long-gone Brown Derby restaurant. It includes bacon, tomatoes, chicken, avocado, hard-cooked egg, chives, watercress, and romaine and iceberg lettuces, dressed with Roquefort cheese and red wine vinaigrette. Now featured on restaurant menus around the country, often under the name California Cobb, it still evokes the power lunches of old Hollywood. Jack Warner, a founder of the Warner Brothers studio, was known to send his chauffeur regularly to the Brown Derby to pick up Cobb salad by the carton. Though the Cobb predates La Scala's salad, there are those who maintain that the version originally served at the Brown Derby rested on a foundation of unchopped lettuce leaves, thereby disqualifying it as a chopped salad. Still, the Cobb as we know it today tends to be a thoroughly chopped affair. Others insist that the Cobb belongs in another category altogether, that of the composed salad, in which the various ingredients are arranged in an artful pattern on the plate. I'm inclined, however, to agree with Leslie Brenner, the former food editor of the Los Angeles Times, who pointed out in a 2005 article on the dearth of composed salads on LA menus, "You don't want to eat [a Cobb salad] until you toss it—at which point, it loses its composure."
If we're willing to allow the Cobb as a chopped salad, then there's at least one other that likely predates both that one and La Scala's. The Chinese chicken salad has been traced back, depending on the source, to different Cantonese or Sichuanese dishes but has, over the years, become associated above all with Southern California. These days such a salad typically consists of a mix of shredded vegetables including cabbage and carrots; shredded chicken; a dressing of soy sauce, sesame oil, and rice vinegar; and a topping of crunchy fried Chinese noodles.
Many of the earliest incarnations of the Chinese chicken salad, which had taken hold on California tables by the 1930s, bore little resemblance to today's versions, though. A recipe published in the Los Angeles Times in 1938 calls for boiled bean sprouts and French dressing. A more familiar take from today's perspective, topped with fried wonton skins and toasted almonds, was served at Madame Wu's Garden, a popular celebrity hangout in Santa Monica from 1961 until it closed in 1998; the proprietor, Sylvia Wu, says it was created at the request of Cary Grant. Other stars favored the one at the Fox Studios Commissary, which began serving its own popular version, topped with daikon sprouts, sliced cucumber, and red onion as well as fried wontons, sometime in the 1970s. The Chinese chicken salad ( see ** Chinese Chicken Salad**) might be said to have reached its apotheosis, though, in the chef Wolfgang Puck's innovative version, which includes julienned snow peas and a brightly flavored Chinese mustard vinaigrette and was first served in 1983 at his Santa Monica restaurant Chinois on Main.
It's interesting that the La Scala, Cobb, and Chinese chicken salads, in their earliest versions anyway, all consisted of ingredients that might be found in a supermarket anywhere in the United States. It wasn't until the mid-1980s, when Puck introduced the Chino Chopped Vegetable Salad—a showcase for green beans, corn, artichoke hearts, and other produce from Chino Ranch, a farm north of San Diego with a cult following among California chefs—that the chopped salad in Los Angeles really began to reflect the abundant seasonal produce available right here in the city's many farmers' markets.
Today the chopped salad is an emblem of LA's penchant for sourcing locally and thinking globally. Clementine, a market-driven cafe in Century City, has a Spanish chopped salad of romaine and radicchio, -pimenton-marinated chickpeas, roasted red peppers, chorizo, and Mahon (a sharp cows' milk cheese) tossed with sherry vinaigrette. At Ciudad, downtown, owners Mary Sue Milliken and Susan Feniger offer a chopped salad featuring great big Cuzco corn kernels, plantain chips, calypso beans, and crumbled Cabrales (a Spanish blue cheese). One of my favorites, the chopped salad at Jar (see ** Jar Restaurant's Chopped Salad**), a West Hollywood steak house, combines fresh cabbage, carrots, and fennel with olives, Italian prosciutto, and roast chicken. Like the salads at Clementine and Ciudad, it may have an eclectic pedigree, but it's anything but haphazard in design. Jar's owner, Suzanne Tracht, insists that a good chopped salad is a delicate balancing act of complementary flavors and textures. "You take out one ingredient," she says, "and it's just not the same. It all works together."