Stir-Crazy for Silicone Whisks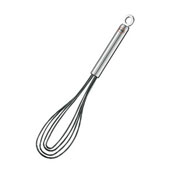 When a friend raved about her new Rosle silicone flat whisk, I was intrigued; I'd never owned a stainless steel flat whisk, let alone a newfangled one like this. I usually cook with nonstick pans now, so I decided that if I was going to try my hand at a flat whisk, I had to have silicone, which wouldn't scratch. When I brought my whisk home, I was surprised by how useful it turned out to be. Its flattened, U-shaped head works not just for incorporating flour into melted butter (it's also known as a roux whisk), but also for deglazing, making sauces, whisking eggs, and doing any task that requires scraping the bottom of the pan and getting into the corners—it's also perfect for stirring oatmeal. The nonstick-coated head cleans easily and is heat resistant to 500°F.
If you're really into whisks, you might want to check out Rosle's complete line, including a bulb-shaped silicone egg whisk and various balloon, twirl, and jug whisks. The flat whisk is sold at Williams-Sonoma for $21.