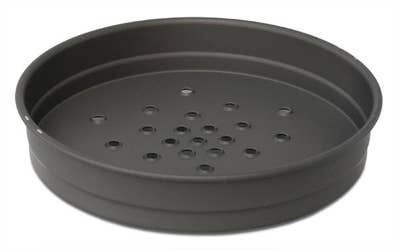 Techniques
Deep Dish Pizza Pan
If you like your pizza slices deep but don't live in Chicago, look no further.
Though I live in New York, I'm a Chicagoan at heart and in stomach—so when I'm in the mood for pizza, my neighborhood joint's floppy, foldable slices just don't satisfy.
Thankfully, I came across ManPans Perforated Deep Dish Pizza Pan, which enables me to whip up a pizza at home just the way I like it: deep. Holes in the bottom prevent accumulation of moisture, and their raised edges keep oils in the crust from leaking out during baking. I was able to make a two-inch-deep pie with a buttery, flaky, sturdy crust that stood up to a mile-high pile of cheese, toppings—my favorites are pineapple and green pepper—and sauce. As an added bonus, all ManPans' pans are made with eco-friendly and energy-efficient materials.
ManPans Perforated Deep Dish Pizza Pan , $29.99 at manpans.com