Zyliss Metal Ice-Cream Scoop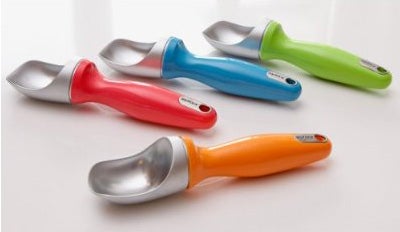 This is the ice cream scoop I grew up with. Iconic, attractive, and comfortable to hold, I had a hard time finding a suitable replacement once I moved into my own place. Yet I couldn't bring myself to spend $20 on a utensil I rarely use, functional and nostalgia-inducing as it may be — which means I've been living without an ice cream scoop for nearly fifteen years. All of that changed recently when I purchased Zyliss's ergonomically-handled version. Like my childhood scoop, it has a lovely heft to it and eschews any clumsy spring action, yet it costs about half the price. It's also the winner of a Red Dot design award, and the very first time I used it, I could see why: The Zyliss scoop cuts into ice cream like a trowel, while simultaneously gliding effortlessly through on a subtle, curved path. The result is a generous, easy scoop that, for better or worse, makes me want to eat ice cream a little more often.
Zyliss Metal Ice Cream Scoop, $8.55 at Amazon.com
.