Adobo Chicken Under a Brick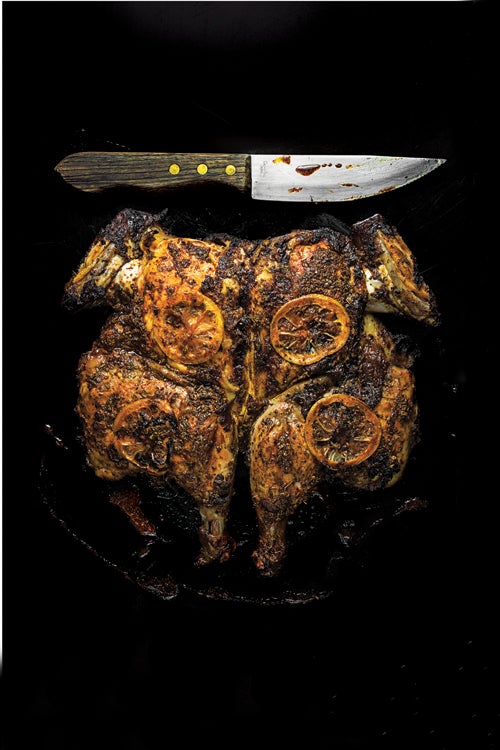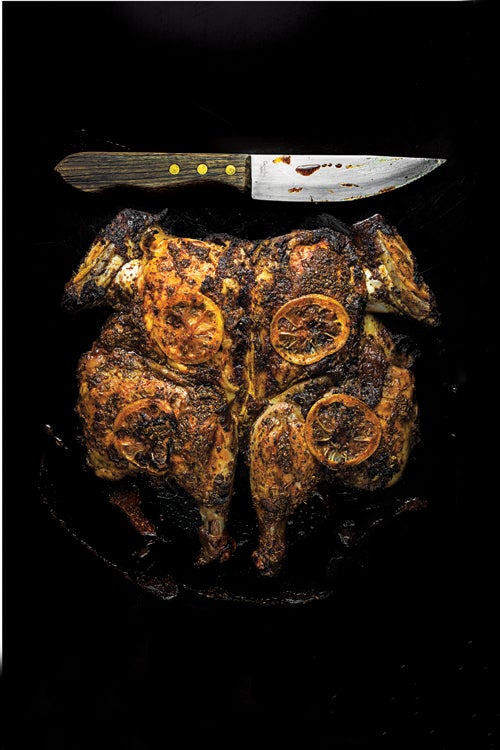 Maricel Presilla's zesty Cuban-inspired marinade infuses the chicken with flavor, and grilling it flat on a plancha results in delicious crispy skin. This recipe first appeared in our June/July 2013 issue with Maricel E. Presilla's story, _Secrets of the Grill: Chicken_
Adobo Chicken Under a Brick
A recipe for chicken infused with a zesty Cuban-inspired marinade and grilled flat on a plancha.
Ingredients
1 (3-lb.) chicken
1 lemon, thinly sliced, plus juice and zest of 2 lemons
1⁄4 cup olive oil
2 tbsp. dried oregano
2 tbsp. Spanish smoked paprika
1 1⁄2 tbsp. ground cumin
2 tsp. ground allspice
10 cloves garlic, peeled
Kosher salt and freshly ground black pepper, to taste
Instructions
Use kitchen shears to cut out and discard chicken backbone. Using your hands, flatten chicken and tuck wing tips back to keep them from burning. Loosen skin over breast and thighs and slide sliced lemons under skin; transfer to a 9″ x 13″ baking dish. Purée lemon juice and zest, olive oil, oregano, paprika, cumin, allspice, garlic, salt, and pepper in a food processor into a paste; rub paste over chicken. Cover and refrigerate overnight.
Heat a charcoal grill or set a gas grill to high; bank coals or turn off burner on one side (see Grilling 101). Heat a plancha or flat cast-iron griddle over coals until very hot. Wrap a heavy brick with aluminum foil; place on grill until hot. Place chicken breast side down on the plancha and weigh down with brick. Grill chicken, flipping once, until slightly charred and cooked through, about 45 minutes or until an instant-read thermometer inserted into thickest part of thigh reads 165°. If the outside starts to burn before the chicken is fully cooked, move plancha to the cooler side of the grill until the chicken is done. Rest chicken 15-20 minutes before serving.