Thai Cucumber Relish (Ajad)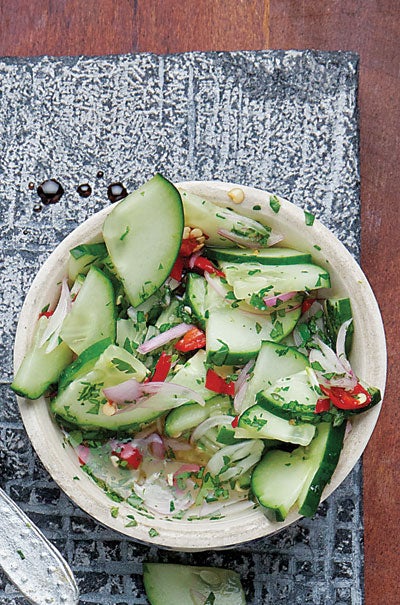 This relish is adapted from a recipe in Thai Street Food (Ten Speed Press, 2010) by David Thompson. This recipe first appeared in our May 2011 issue, with the article The World of Satay.
Thai Cucumber Relish (Ajad)
Use this cooling, spicy, tart relish to top curries, pile high on sandwiches, or as a simple side dish for grilled skewers.
Yield:
makes about 2 cups
Ingredients
1⁄4 cup sugar
1⁄4 cup distilled white vinegar
1⁄4 tsp. kosher salt
2 tbsp. chopped cilantro
1⁄4 fresno chile, finely chopped
4 small shallots, sliced thin
1 small cucumber, quartered lengthwise, sliced thin
Instructions
Stir sugar, vinegar, salt, and 1⁄4 cup boiling water in a bowl; let cool. Stir in cilantro, chile, shallots, and cucumber before serving.