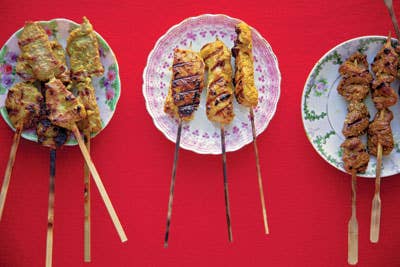 Culture
The World of Satay
A cook's guide to the appealing and adaptable combination of skewers, meat, and heat.
A Southeast Asian Craving
There's nothing more delicious than satay fresh off the grill, when the skewers of seasoned meats are hot, juicy, and infused with the flavor of smoldering charcoal. Though it's the ultimate southeast Asian snack, satay is believed to be a descendant of the kebabs that Middle Eastern merchants introduced to Java, in western Indonesia, in the eighth century. Local cooks adapted the dish to include indigenous ingredients, and in the centuries that followed, satay proliferated, resulting in countless regional variations. The ones pictured here reflect three classic styles. Muu satay, or pork satay, from Thailand (left), is sweet with coconut milk; what sets it apart is the pork, which you rarely find in Muslim Malaysia and Indonesia. Chicken satay (middle), called satay ayam in Malaysia, comes from the northeast coast of that country and is marinated in a spice market's worth of seasonings, from ginger to fennel to coriander. In western Java, satay is traditionally made with beef or goat; it's also delicious with lamb (right), called satay kambing: The tamarind marinade, laced with ginger, tenderizes the meat and lends it a subtle tang.
Satay is the quintessence of fast food in southeast Asia. You'll find it sizzling over hot coals practically 24 hours a day—at night markets, in busy hawker stalls, or offered by mobile vendors who prepare it to order. These cooks carry bamboo rods across their shoulders, balancing a basketful of the marinated meat and condiments on one side and a small grill filled with hot coals on the other. When a vendor is waved down by a customer, he sets up his mobile kitchen on the ground and starts cooking. Within minutes, the skewers are charred and ready to eat. The versions offered depend on your location. In coastal areas, you find an amazing variety of seafood satays, such as the ones featured here: an emphatically spiced hoi malaeng puu from southern Thailand made with mussels (top) and satay udang, shrimp slathered with a gingery paste (bottom), a favorite in Singapore. On the island of Bali, in Indonesia, the seafood used in satay is brightly seasoned; cooks finely mince ingredients like fresh tuna (middle) with freshly pounded spices and shape them around the skewers before grilling to make satay lilit.
Inherent in the great tradition of satay is the tendency to tweak—to take a classic recipe and make it your own. On this page are two iterations by chef Jean-Georges Vongerichten, one of the world's great interpreters of southeast Asian cuisine. His lemongrass pork satay (top) takes the typical Thai marinade flavorings of lime leaves and lemongrass and bolsters them with umami-packed ingredients like oyster sauce, fish sauce, and sesame seeds. Vongerichten's chile-rubbed beef satay (bottom) is herbaceous and vividly flavored with fresh soy sauce, cilantro, and orange zest. These capture the true spirit of satay, a genre that's open to interpretation and infinitely customizable.
The impulse to grill skewered ingredients is one that cooks in many parts of the world share: from Japan, where small pieces of chicken and other ingredients are threaded onto sticks for yakitori, to Greece, where large, succulent chunks of lamb or pork souvlaki are grilled on metal skewers. In the Middle East, kebabs are often made with meat that's been minced and seasoned, as in the case of this Lebanese beef kafta (top). The mincing distributes dried mint, cinnamon, and other seasonings throughout each and every bite. Turkish cooks prepare shish kebab (left) by marinating cubes of lamb with cumin and other seasonings. Kebabs in India tend to be big and generously embellished: For reshmi kebab (bottom) ground chicken is mixed with almonds, spices like garam masala, and a touch of heavy cream, which enriches the meat and keeps it from drying out on the grill. The ground meat is pressed along the length of a metal skewer and served with flatbread and green coriander chutney.
Skewers of satay are powerfully seasoned in their own right, but it's the sauces and condiments that invariably accompany them that draw everything together. The serving of satay in Indonesia and Malaysia is an elegant art form: Skewers are arranged atop a banana leaf with a dollop of spicy, rich peanut sauce (top left), called saus kacang tanah, and a drizzle of sambal kecap (bottom right), sweet, thick soy sauce spiked with chiles and shallots. In Indonesia, these sauces often come with a cool pile of acar timun, sweet-tart vegetable pickles (bottom left), and in Thailand with ajad, a refreshing cucumber salad emboldened with sliced shallots and chiles (top right). Altogether, it's a brilliant composition of flavors, temperatures, and textures.