Recipes
Apple and Cranberry Upside-Down Cake
Turn the fruits of fall into a warm and inviting dessert.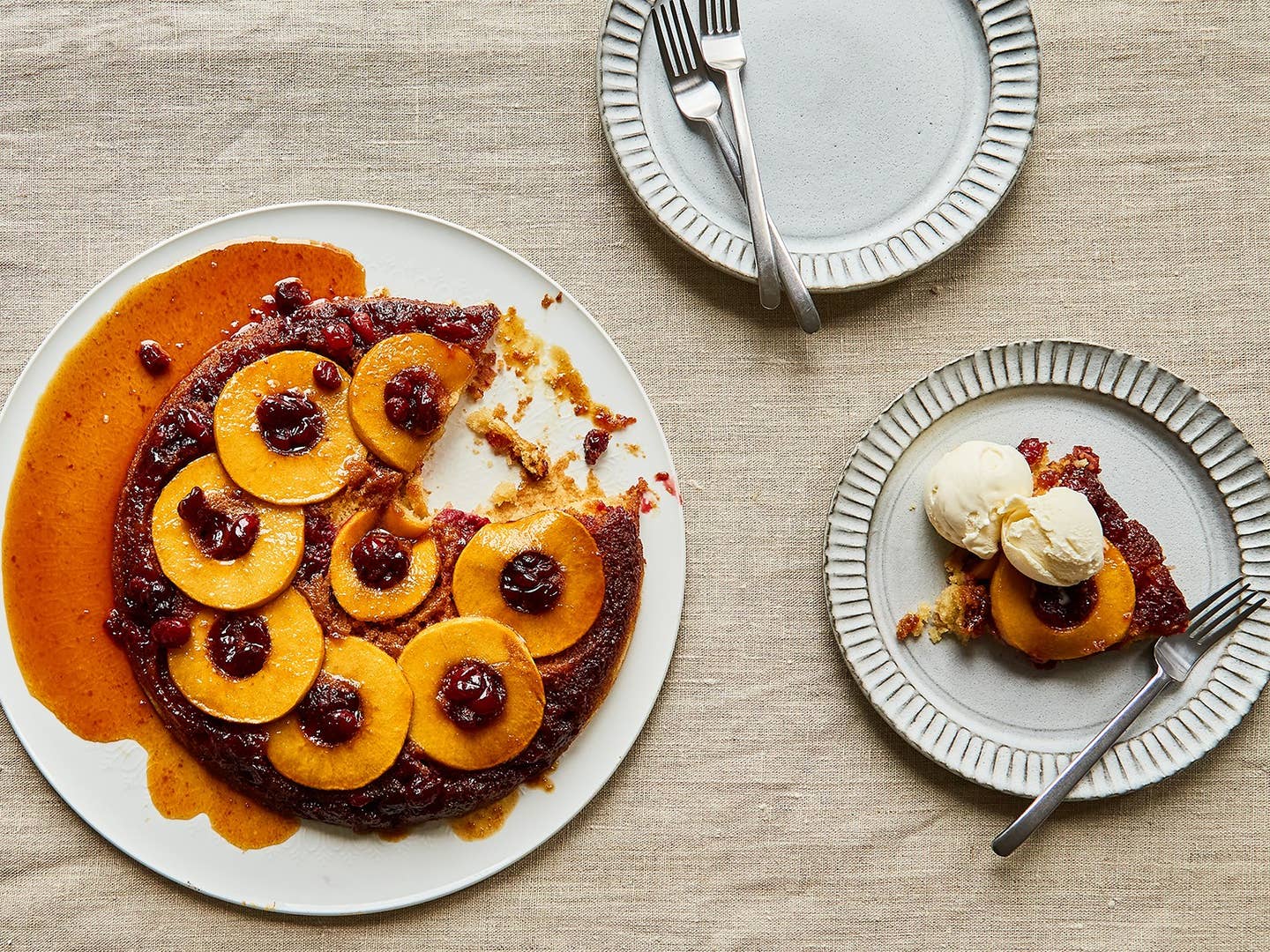 This recipe from Fore Street restaurant in Portland, Maine bakes perfectly in a cast-iron skillet. If fresh or frozen cranberries aren't available, soak dried berries until reconstituted. For more sweet treats, check out all of our upside-down cakes.
Ingredients
1 cup fresh or frozen cranberries, rinsed and picked over
1½ cups plus 1 Tbsp. granulated sugar, divided
8 tbsp. unsalted butter, 2 Tbsp. cold, 6 Tbsp. softened, plus more for greasing
2 firm cooking apples, such as Northern Spy, Baldwin, or Golden Delicious
1 cup cake flour
1 tsp. baking powder
¼ tsp. fine salt
½ cups light brown sugar
1 large egg
1 tbsp. applejack or Calvados
½ cups whole milk
Vanilla ice cream, for serving (optional)
Instructions
Step 1
In a microwave-safe bowl, stir together the cranberries, 1 tablespoon of the granulated sugar, and 1 tablespoon of water. Cover and microwave on high until the berries just pop, 2–3 minutes, and set aside.
Step 2
Position a rack in the center of the oven and preheat to 350°F. To a 10-inch cast-iron skillet set over medium heat, add the remaining granulated sugar and ¼ cup of water. Boil until the sugar turns amber, about 8 minutes. Working quickly, remove the skillet from the heat, add the cold butter, and swirl until the butter is melted.
Step 3
Peel and core the apples, then slice them into ¼-inch-thick rounds. Arrange them in concentric circles on the bottom of the skillet, overlapping slightly. Spoon the cranberries over the apples, grease the sides of the pan with butter, and set aside.
Step 4
Into a bowl, sift together the flour, baking powder, and salt, and whisk to combine. In the bowl of a mixer fitted with a paddle attachment, beat the softened butter and brown sugar on medium-high until light and fluffy, about 3 minutes. Add the egg and applejack and beat until incorporated, about 1 minute. Add one-third of the flour mixture and beat until just incorporated, then beat in half of the milk. Repeat with the remaining flour mixture and milk, ending with the flour mixture.
Step 5
Scrape the batter over the fruit, spreading it to the edge of the skillet. Bake until deep golden and a toothpick inserted in the center comes out clean, about 30 minutes. Run the tip of a knife around the rim, then carefully invert the cake onto a large plate. Serve warm or at room temperature, with vanilla ice cream, if desired.