Bam Bam's Forgotten Cookies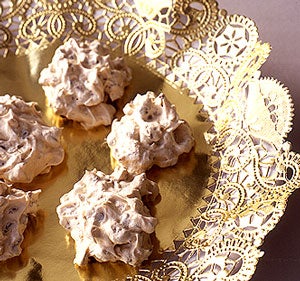 The author's grandmother, Helen "Bam Bam" Brown, concocted these crisp cookies. Coarsely chop regular-size chocolate chips if the miniature kind aren't available.
Bam Bam's Forgotten Cookies
These crisp, meringue-like cookies get their name from being "forgotten" or left in the oven overnight to firm up.
Yield:
makes About 4 Dozen
Ingredients
4 egg whites, at room temperature
1⁄4 tsp. salt
1 tsp. vanilla
1 cup sugar
12 oz. (2 cups) miniature bittersweet chocolate chips
1 cup chopped shelled pecans (optional)
Instructions
Preheat oven to 250°. Put egg whites into the clean bowl of a standing mixer fitted with a whisk and beat at medium-low speed until frothy, about 2 minutes. Add salt and gradually increase speed to high, beating until whites form stiff but not dry peaks, about 1H minutes. Reduce speed to medium, add vanilla, then add sugar a few tablespoons at a time, continuing to beat whites until sugar dissolves and they are smooth and glossy, about 2 minutes.
Divide whites into two batches. Gently fold chocolate chips and, if you like, pecans, into the whites with a rubber spatula. Take care not to deflate the whites. Drop meringue by the tablespoonful onto parchment-lined cookie sheets, spacing them about 1″ apart.
Bake for 45 minutes, then turn off oven, leaving cookies inside the oven overnight or until completely cool, at least 4 hours. Remove cookies from oven and store in airtight containers for up to 1 month.