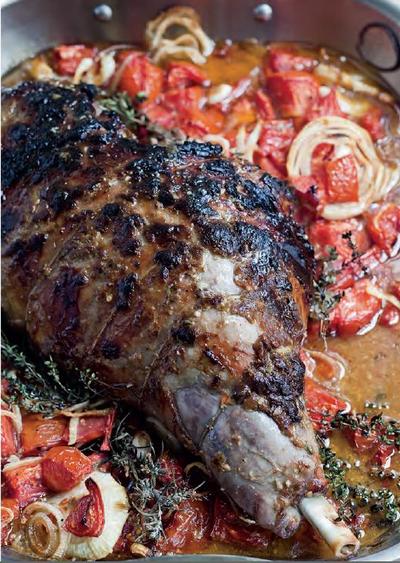 In her book Barefoot Contessa How Easy Is That?, Ina Garten writes: "My friend Myriam Richard-Delorme in Paris is a great cook and she gave me this recipe. All you do is put a leg of lamb in a roasting pan with lots of cut-up tomatoes, onions, garlic, rosemary—and then pour honey over it to caramelize the lamb and tomatoes while they roast. Everything cooks in one pan and a few hours later you have the most succulent roast lamb, plus the tomatoes and pan juices become the sauce. OMG is it fabulous!"
Yield: serves 8
Ingredients
1 (6- to 7-lb.) bone-in leg of lamb, trimmed and tied
1⁄2 cup Dijon mustard
3 tbsp. chopped garlic (9 cloves), divided
1 tbsp. chopped fresh rosemary leaves
1 tbsp. balsamic vinegar
Kosher salt and freshly ground black pepper
3 lb. ripe red tomatoes, cored and 1-inch-diced
1⁄2 cup good olive oil
1⁄2 cup good honey (see note), divided
1 large Spanish onion, sliced
4 sprigs fresh thyme
2 sprigs fresh rosemary
Instructions
Heat the oven to 450 degrees. Place the leg of lamb in a large roasting pan fat side up and pat it dry with paper towels. Combine the mustard, 1 tablespoon of the garlic, the rosemary, balsamic vinegar, 1 tablespoon salt, and ½ teaspoon pepper in a mini food processor and pulse until the garlic and rosemary are minced. Spread the mixture on the lamb.
Place the tomatoes, olive oil, ¼ cup of the honey, the onion, the remaining 2 tablespoons garlic, 2 tablespoons salt, and 2 teaspoons pepper in a bowl and toss well. Pour the tomato mixture around the lamb and tuck in the thyme and rosemary sprigs. Drizzle the lamb with the remaining ¼ cup of honey. Roast lamb in 450 degree oven for 20 minutes. Turn the heat down to 350 degrees and roast for another 1 to 1¼ hours, until a meat thermometer registers 130 to 135 degrees for medium-rare.
Place the lamb on a cutting board, cover with aluminum foil, and allow to rest for 15 minutes. Discard the herb stems and return the tomatoes to the oven to keep warm. Slice the lamb, arrange on a platter, sprinkle with salt and pepper, and serve with the tomatoes and pan juices spooned on top.
Note: You'll want to use a liquid—rather than a solid—honey for this recipe so it can be drizzled on the lamb.
This recipe is excerpted from Barefoot Contessa: How Easy is That? by Ina Garten Copyright © 2010 by Ina Garten. Excerpted by permission of Clarkson Potter, a division of Random House, Inc.