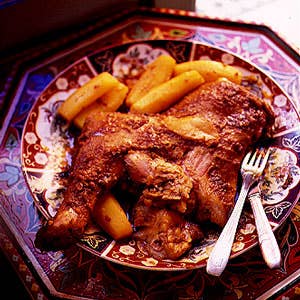 Boujemaa Mars, chef at the Moroccan restaurant in Marrakech's celebrated La Mamounia hotel, turns out inventions like seafood bestila and sea bass stuffed with dates—but his classical cooking, like this lamb specialty (he uses baby lamb shoulder; we've substituted shanks), is gutsy and authentic. Mhammar is Arabic for ''reddened''—i.e., browned, which these lamb shanks become after long, slow braising.
**2 tbsp. olive oil
2 large onions, peeled and finely chopped
3 large cloves garlic, peeled and minced
1 1/2 tsp. sweet paprika
1 tsp. ground cumin
Pinch saffron threads
8 lamb shanks
Salt and freshly ground black pepper
1 Preserved Lemon, thinly sliced
8 medium waxy potatoes, peeled and halved
**
1. Heat oil in a large heavy pot over medium heat. Add onions and cook, stirring constantly, until translucent, about 5 minutes. Add garlic and cook about 2 minutes longer, then stir in paprika, cumin, and saffron and cook for an additional 2 minutes.
2. Add lamb shanks, arranging in a layer on top of onion mixture. Add enough water to cover meat about halfway (about 4 cups), then season with 3 tsp. salt and 1 tsp. pepper. Bring to a boil, uncovered, then reduce heat to low, partially cover pot, and simmer for 3 hours, basting and turning shanks about every 30 minutes.
3. Scatter preserved lemon slices over meat and top with potatoes. Cover pot and cook until potatoes are tender, about 45 minutes, basting about every 15 minutes.
4. Arrange meat and potatoes on a large serving platter. Skim and discard fat from sauce, pour a little sauce over meat and potatoes, and serve remaining sauce on the side.