Recipes
Filhote com Molho de Camarões e Bananas (Fish with Shrimp Sauce and Plantains)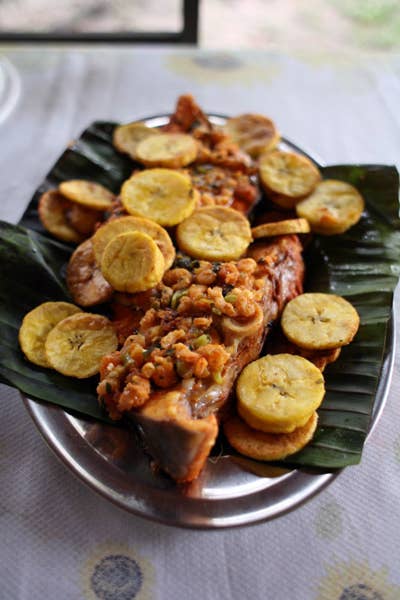 Any tender, skin-on white fish can be used in this dish, which is topped with spicy shrimp sauce. This recipe first appeared in our June/July 2012 issue along with Neide Rigo's story Passage to the Amazon.
Ingredients
5 (3 1/2-lb.) bone-in, skin-on red snapper steaks
1⁄3 cup olive oil
1⁄4 cup minced cilantro
1⁄4 cup minced Thai basil leaves
1 tbsp. minced Brazilian pickled chiles (optional)
2 tsp. ground annatto seed (available at The Great American Spice Company)
Kosher salt and freshly ground black pepper, to taste
1 small yellow onion, minced
1 tbsp. minced garlic
1⁄2 Italian frying pepper, stemmed, seeded, minced
3 plum tomatoes, cored and finely chopped
1 lb. medium shrimp, peeled, deveined, roughly chopped
1 cup fish or vegetable stock
2 tbsp. fresh lime juice
Canola oil, for frying
1 ripe plantain, peeled and cut into ¼″-thick slices
Instructions
Step 1
Toss fish, ¼ cup olive oil, 2 tbsp. cilantro, 2 tbsp. basil, chiles, and 1 tsp. annatto in a bowl. Heat a 12″ skillet over medium-high heat; working in batches, add fish and marinade and cook, turning once, until cooked through, about 12 minutes. Transfer to a serving platter; keep warm. Add remaining olive oil and onions to skillet; cook until soft, about 4 minutes. Add garlic and pepper; cook until soft, about 3 minutes. Add tomatoes; cook until broken down, about 12 minutes. Add remaining annatto, shrimp, stock, and juice; cook until shrimp are cooked through, about 2 minutes. Add remaining cilantro, basil, salt, and pepper; pour over fish.
Step 2
Pour canola oil to a depth of 1″ in a 12″ skillet; heat over high heat. Add plantains; fry until golden, 3–5 minutes. Transfer to paper towels; serve with fish and shrimp sauce.