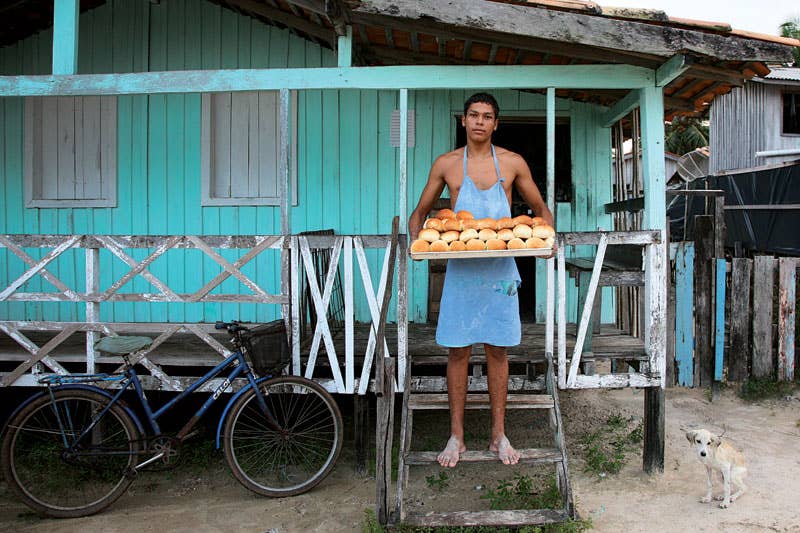 Travel
Passage to the Amazon
The Elemental Flavors of Brazil's Marajo Island
At daybreak, I'm standing on the deck of a small passenger ferry heading down a branch of the Amazon river, in northeast Brazil. On the nearby banks there is jungle; dense, lush walls of green interrupted only by the occasional handful of wood huts. The water is brown, the air sultry. We're not far from the sea, and a hint of its brine follows us, mingling with the scents of earth and vegetation. I'm hot and exhausted and immensely happy. Leave it to me to fall in love with a place that's so hard to get to: The journey to the island of Marajo has taken two days. So far it has involved a cross-country flight from my home in Sao Paulo to the Amazon port city of Belem, a predawn taxi ride to the ferry docks, and, now, a slow three-hour cruise down the river. Yet to come, there is a long drive through the jungle, followed by a hop across another river by barge before I reach my destination on the island.
Marajo is in every way extreme. The island—the largest surrounded by freshwater anywhere in the world—is as big as Switzerland. It sits where the Amazon pours into the Atlantic Ocean, and on any given day, the fishermen might pull saltwater or freshwater species from water that can be sweet or saline, depending on the time and the tides. Even the landscape is fickle. Seasonal flooding covers half the island in shallow lakes for five months of the year, but Marajoarans adapt. Water buffalo swim, and people ride the water buffalo, or make their way by raft and canoe. Few Brazilians know anything about this place; more of my countrymen have probably been to Orlando, Florida. Every visit here turns everything I think I know about Brazil on its head. I find it incredibly exciting.
It has been more than 15 years since the first time I traveled to Marajo, at the invitation of my friend Katia; her parents, Jeronima and Raimundo Cordeiro de Brito, hosted us at their home, a ranch and nature preserve outside the town of Soure on the eastern side of the island. To me, a denizen of bustling, cosmopolitan Sao Paulo, Marajo was paradise. That first visit lives in my memory as a mosaic of ingredients and meals: dozens of tropical fruits I'd never heard of, myriad dishes made from the meat and milk of the water buffalo that roam the island, river fish grilled with wild herbs, sweet freshwater shrimp steamed in their shells. Here was food that was elemental, ingredient-focused, intense, with kaleidoscopic flavors unlike any I'd encountered in Brazil's other regional cuisines. Since that first visit, I have returned many times over the years, always hungry for more.
When the ferry disgorges us at a tiny village on the bank of the river, I'm greeted by Oseas de Cristo Moraes, a taxi driver and friend of the Britos' who is driving me to their home. I slide into the backseat, and we set out along a winding road through a densely forested, pancake-flat landscape. A couple of hours later, we turn onto a long dirt path. The car slows to a crawl, and I'm suddenly aware of the sound of the forest, ringing with birdsong. A clearing opens, and in the heart of it, there's a familiar collection of single-story wooden buildings which make up the ranch. Inside one of them, I find the Britos making lunch.
Jeronima Brito, a strong and agile 73-year-old known to everyone as Dona (Mrs.) Jeronima, greets us warmly. Her sister, Angela, brings out a basket of soft, sweet palm fruits called inajas to snack on while they continue cooking. I sit down and take it all in. The kitchen is open on all sides, encircled by forest and grassy fields, with a little yard where herbs—alfavaca (a kind of basil), cilantro and its long-leafed cousin, culantro—and vegetables grow. The surrounding trees are thick with shaggy red annatto pods, with papaya and guava, with more kinds of palm fruit than I can name. Chickens scratch and peck in the yard, and water buffalo and horses wander freely in the fields beyond.
It's time to eat when slices of filhote—a giant freshwater catfish that can reach 500 pounds—emerge from the woodburning stove wrapped in banana leaves. The fish is served with a delicious sauce of fresh herbs, tomatoes, garlic, and shrimp, and garnished with sweet plantains. Dona Jeronima sets it out on the table along with rice and stewed red beans, pickled chiles, a salad of just-picked lettuces and tomatoes, and pitchers of juices: pineapple, papaya, and sweet, milky-white soursop. Here, too, is yellow farinha d'agua—a coarse meal of fermented, toasted, ground cassava—that's on the table at virtually every meal here. We mix a handful into the rice and beans and savor its nutty flavor and assertive crunch. For dessert, there are sliced fresh pineapples and papayas, both plucked from the yard. We eat at a big table outside, on a porch shaded by cashew trees. Fresh fish, wood smoke, banana leaves, the smell of the water and forest nearby: It's a perfect synthesis of Marajo. I feel welcome, part of this place. Immediately after lunch, I fall asleep, full, and content.
My days on the island quickly take on a regular, relaxed rhythm. I stay with the Britos, sleeping in a simple guest room. Some days I spend in the kitchen, where Dona Jeronima is joined by a team of able cooks: Angela, and two men, Nonato Azevedo and Adilson Barbosa Cruz, who help to prepare, always from scratch, the many components of each meal. The ranch doubles as a bed and breakfast, and workers and guests often join us at the table. Other days, I accompany Senhor Brito on his errands around the ranch. One day—is it Wednesday, Thursday? I have a hard time keeping track of the days here—I go crabbing in the deep, dark stands of mangroves that grow in salty swamps near the shore, and swim afterward at the nearby beach. I climb trees to help harvest fruit, and sometimes venture into nearby Soure, a tidy little town of brightly painted wood houses, to shop at the fish market or to visit friends of the Britos.
Invariably, such visits become meals. On this part of the island, fishing and cattle ranching drive the local economy, and my hosts pull together extravagant dishes that speak to the bounty of Marajo's rivers or ranches, or both: casquinha de caranguejo, stuffed crabs strewn with butter-fried cassava flour; file Marajoara, meltingly tender fillets of buffalo steak seared in a skillet and topped with slabs of queijo do Marajo, sweet, soft buffalo milk cheese that melt luxuriously over the meat; sombremesa de banana com queijo, a layered, luscious dessert of sliced banana and queijo do Marajo drenched in sweetened condensed milk and sprinkled with cinnamon. The Amazon forest harbors ingredients that just don't exist elsewhere in Brazil, and I savor the impossible-seeming flavors that the island gives in abundance. There's a tree, cipo-d'alho (garlic bush), growing outside of the Britos' kitchen that smells of garlic and, interestingly, bacon; the leaves bring a smoky-savory depth to everything from soups to grilled foods. Another morning, at the market in Soure, I'm served a bowl of pork stew that's been simmered with aromatics and jambu, a wild cress that gently, pleasantly numbs the mouth in much the same way that Sichuan peppercorn does. I eat it with rice and beans, noting its layers upon layers of flavor. The tingling sensation of the jambu stays with me after I've drained the bowl.
Every one of these meals is layered with history. The bones of the cuisine—the fresh and dried fish, the palm fruits, and cassava—have been used here for millennia; they were as essential to the ancient indigenous Marajoarans as they are to their present-day descendants. The beef and dairy were introduced by the Dutch, French, and Portuguese colonizers who brought cattle—and with them, African slaves to work the ranches—to the island in the 17th century. Today, Marajo and its cooking are at their core multivalent, polyglot, and multicultural in the truest sense, the result of 400-odd years of intermarriage among Europeans, Africans, and native Brazilians. It's a mix that pervades almost every meal here. The juxtaposition of all these different cultures and ingredients is constant, sometimes even in the same moment, sometimes in the same meal.
I return to the Britos' ranch one day to find Dona Jeronima, Angela, Nonato, and Adilson putting the finishing touches on an expansive lunch. The main event—a dish reserved for festive occasions—is the quintessentially Marajoaran camusclim, a layered dish of pasta, shrimp, bechamel sauce, and buffalo milk cheese, baked until gooey within and golden on top. Served alongside it is the lyrically named baiao-de-dois ("ballad-of-two"), a dish served throughout northern Brazil made with sausage, air-dried beef, rice, and black-eyed peas. But I am especially pleased to receive a bowl full of pulverized açai, a dark purple palm fruit native to this part of the Amazon, eaten on this island in just this way for millennia. Sprinkled on top are white grains of puffed cassava flour, and we dip in bites of pan-fried yellow hake. Fresh açai has no equivalent in the world. With my eyes closed I savor its flavor, which I can compare to only that of good, fruity, freshly extracted olive oil. Lately dubbed a "superfood" due to its high antioxidant content, açai has become trendy throughout Brazil and in the world beyond; in Sao Paulo, it's served with sugar, sweetened condensed milk, fruit, and granola. But on Marajo, eating açai with anything other than fish or shrimp and cassava flour is heresy. Why dilute the pure flavor of this perfect food?
One day, I walk with Oseas up to the village of Pesqueiro, about three miles from the ranch. It's home to around 300 families of fishermen. It is late afternoon when we arrive, and the small village, just above the tide line, is bathed in golden light. This place seems frozen in time. Children play among the small wood huts that are raised on stilts and decorated with geometric patterns, like those emblazoned on native Marajoaran pottery for centuries before Europeans set foot here. At the shoreline, men check their nets, and groups of women head home with full shrimp- and crab-traps in hand. Oseas asks one woman what she'll be making with her catch, and by way of explanation, she invites us to follow her and see.
Her name is Suzanne Trindade Gaia, and her small house is full of happy children. "I'm making abafadinho [steamed shrimp]," she explains. She washes the prawns twice to rid them of sand, dresses them in lime juice and salt, and puts them in a saucepan with half a lime and a leaf of that bacon-scented cipo-d'alho, shaking the pot from time to time to cook the shrimp in its own steam. The dish is ready in minutes. She offers me a shallow bowl of cassava flour mixed with water to make a slightly crunchy porridge, and, smiling, gestures for me to help myself. We eat standing together in the kitchen, pulling the shrimp right out of the pot; they're sweet, firm, and pink, and they smell amazing, the essence of the sea mingled with meaty, garlicky notes from the leaf. I ask Gaia if she always eats food this fresh, and she laughs. "Since my husband is a fisherman, I always eat the best fish that God gives." I can't help feeling a little jealous.
On the final day of my visit, I go with Dona Jeronima to a little village named Joanes, where, she says, the Portuguese Jesuits who arrived in the 17th century left behind two main legacies: a chapel, now in ruins, and delicious caldeiradas de peixe, or hearty fish stews.
We head down to the waterfront, where we find a little restaurant called Peixaria do Sales. We place our order and sit in the shade, sipping coconut water and surveying the calm ocean ahead, with the jungle at our backs. The woman behind the stove pauses occasionally to duck into the backyard and pick fresh herbs. I look in on her as she cooks, noticing how every movement is calm and easy. As she brings food out and carries dishes back into the kitchen, she has to step around the owner, who sits quietly on the porch peeling cassava. The food takes a long time to come out, but we enjoy the wait. As each dish leaves the kitchen, we catch whiffs of fish, cilantro, and chiles, a combination I now recognize as Marajo's signature scent.
The caldeirada de peixe arrives loaded with eggs, shrimp, and potatoes, in a clay pot with rice and fish broth. The cook has also surprised us with a Marajoaran riff on moqueca, an Afro-Brazilian seafood stew made with palm oil and coconut milk. In both dishes, no ingredient seems unnecessary, no ingredient is wanting. We eat in happy silence, to the constant swell and sigh of the ocean.