Butternut Squash Ravioli with Oregano-Hazelnut Pesto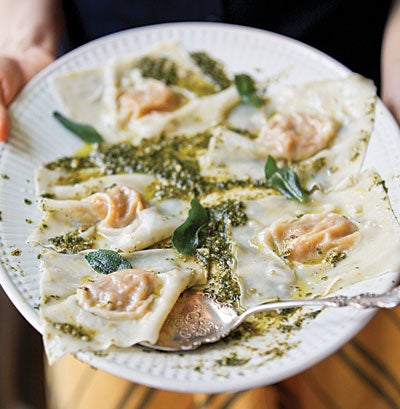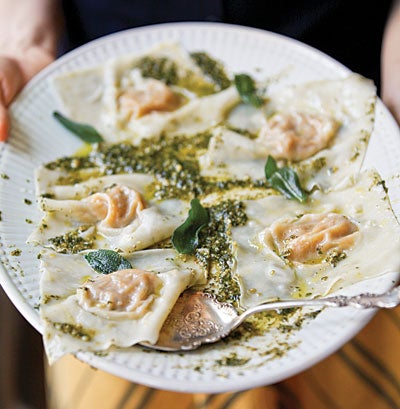 In this sweet-savory dish basil and oregano add herbal brightness to butternut squash, browned butter, and hazelnuts. Using pre-made wonton wrappers (which are essentially a form of flour-and-water pasta) is a time saver, and also ensures that the ravioli have a thin enough casing that the robust flavor of the filling isn't overpowered. This recipe first appeared in SAVEUR Issue #140 along with Laura Schenone's story Glorious Pesto
Butternut Squash Ravioli with Oregano-Hazelnut Pesto
In this sweet-savory dish basil and oregano add herbal brightness to butternut squash, browned butter, and hazelnuts.
For the Oregano-Hazelnut Pesto
1 1⁄2 cups packed oregano
1 cup extra-virgin olive oil
1⁄2 cup packed basil
1⁄2 cup finely grated parmesan
1⁄4 cup hazelnuts, toasted
2 cloves garlic, finely chopped
Kosher salt and freshly ground black pepper, to taste
For the Ravioli
2 tbsp. olive oil
4 cloves garlic, unpeeled
1 small (about 1 3/4 lb.) butternut squash, halved lengthwise and seeds removed
1 cup finely grated parmesan, plus more for serving
4 tbsp. unsalted butter, browned
1 tbsp. freshly grated nutmeg
2 tsp. minced sage, plus 1/2 cup packed whole leaves
2 tsp. minced oregano
Kosher salt and freshly ground black pepper, to taste
1 cup canola oil
80 square wonton wrappers
1 egg, lightly beaten
Instructions
Make the pesto: Process oregano, oil, basil, parmesan, hazelnuts, and garlic, in a food processor until finely ground; season with salt and pepper, and set aside.
Make the ravioli: Heat oven to 450°. Rub garlic and squash with olive oil, and place, cut sides down, on a baking sheet, and bake until tender, about 30 minutes. Let cool briefly, and then scoop out the squash flesh and garlic cloves from their skins and pass both through a potato ricer or food mill into a large bowl; mix in parmesan, browned butter, nutmeg, 2 tsp. finely chopped sage, oregano, and salt and pepper. Set filling aside.
Heat canola oil in a 10″ skillet over medium-high heat; add whole sage leaves and fry until crisp, about 20 seconds. Transfer to paper towels to drain; set aside.
Place 1 wonton wrapper on a work surface and place 1 tbsp. filling in center; brush edge of wrapper with egg and top with another wrapper; seal edges. Repeat with remaining wrappers and filling. Bring a large pot of salted water to a boil over high heat; working in batches, add ravioli, and cook until tender, about 2 minutes. Transfer to a large bowl and toss with pesto until evenly coated; arrange on a large serving platter or plates and top with fried sage leaves.
Pairing Note: The sparkling, off-dry Punta Crena Lumassina Frizzante 2009 offsets the richness of this dish with a crisp acidity.