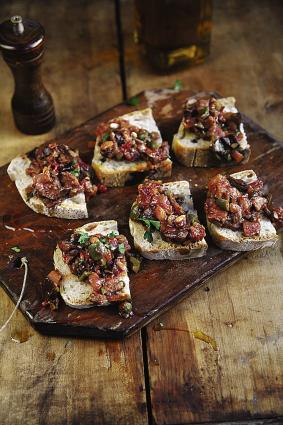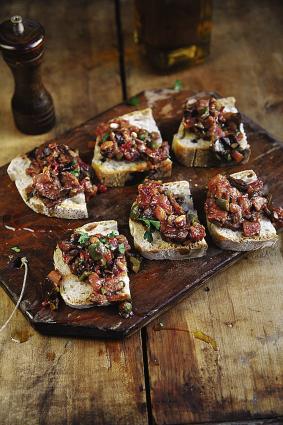 This classic sweet and sour eggplant dish is rich and sweetened with caramelized onions and raisins. This recipe appeared in our March 2011 issue as a part of our special feature, Soul of Sicily
Eggplant Caponata
This classic sweet and sour eggplant relish, an elegant dip or a topping for bruschetta, is rich with caramelized onions and sweet raisins.
Ingredients
3 cups olive oil
2 lb. eggplant, cut into 1″ cubes
1 large yellow onion, chopped
1 rib celery, roughly chopped
Kosher salt and freshly ground black pepper, to taste
3 tbsp. tomato paste, thinned with 1/4 cup water
1 cup crushed canned tomatoes
6 oz. green olives, pitted and roughly chopped
1⁄2 cup white wine vinegar
1⁄2 cup golden raisins
1⁄4 cup salt-packed capers, rinsed and drained
3 tbsp. sugar
2 tbsp. finely grated unsweetened chocolate
1⁄2 cup finely shredded basil
2 tbsp. pine nuts
Instructions
Heat oil in a 12″ skillet over medium-high heat. Working in batches, add eggplant and fry, tossing occasionally, until browned, 3–4 minutes. Using a slotted spoon, transfer eggplant to a large bowl; set aside. Pour off all but 1⁄4 cup oil, and reserve for another use. Return skillet to heat, add onions and celery, and season with salt and pepper; cook, stirring often, until beginning to brown, 10 minutes. Reduce heat to medium, and add tomato paste and cook, stirring, until caramelized and almost evaporated, 1–2 minutes. Add crushed tomatoes and continue cooking for 10 minutes. Stir in olives, vinegar, raisins, capers, sugar, and chocolate, and cook, stirring occasionally, until thickened, about 15 minutes. Transfer to bowl with eggplant, along with basil and pine nuts, and mix together. Season with salt and pepper, and let cool to room temperature before serving.