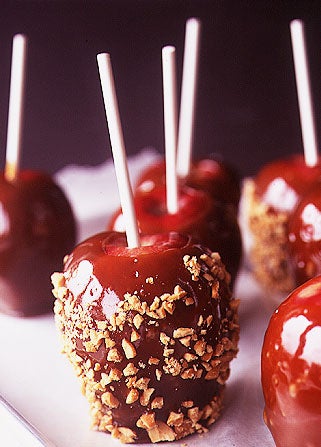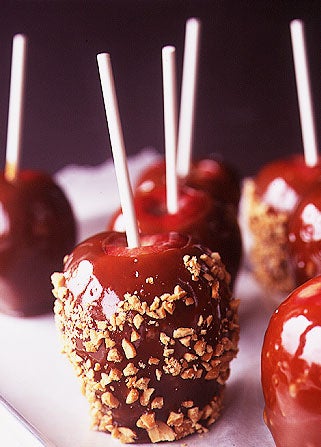 What could be better than gooey, delicious caramel-coated apples? Gooey, delicious caramel-coated apples with nuts, like these.
Yield: serves 8
Ingredients
8 red delicious apples
8 6″ candy sticks
⅓ cups dark corn syrup
⅓ cups sugar
⅓ cups dark brown sugar
⅓ cups heavy cream
¼ tsp. salt
3 tbsp. butter
¾ tsp. vanilla extract
2 cups honey-roasted peanuts, coarsely chopped
Instructions
Remove stems from apples and replace with candy sticks.
Lightly oil a sheet of wax paper and set aside. Combine corn syrup, sugar, brown sugar, cream, salt, and 2⁄3 cup water in a heavy-bottomed medium saucepan. Bring to a boil over medium-high heat, stirring frequently, and cook until a candy thermometer registers 240°. Immediately remove pan from heat. Whisk in butter and vanilla until fully incorporated.
Working quickly while caramel is still hot, dip apples into caramel, turning to coat evenly. Hold apples by stick over saucepan, letting excess caramel drip back into pan. Roll apples in chopped peanuts, then place apples on lightly oiled wax paper.