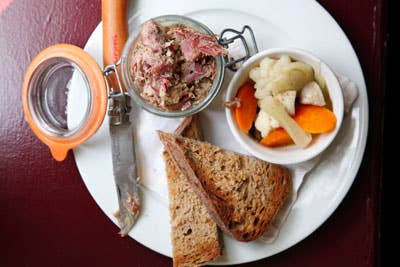 Recipes
Champignons à la Grecque (Marinated Mushrooms)
Serve this marinated mushroom salad from Chez Georges warm or at room temperature, as a first course alongside cured meats and baguettes or as a side dish with roast chicken or fish.
1⁄3 cup extra-virgin olive oil
1 large onion, minced
4 cloves garlic, minced
3 tbsp. tomato paste
2 medium tomatoes, peeled, seeded,
and chopped
1 cup white wine
1 lb. button or cremini mushrooms,
trimmed and quartered
1 tsp. dried thyme
3 dried bay leaves
Kosher salt and freshly ground
black pepper, to taste
Juice of 1 lemon
1⁄2 tsp. dried dill
Heat oil in a 12" skillet over medium-high heat. Add onions and cook, stirring, until browned, about 8 minutes. Add garlic and tomato paste and cook, stirring, for 3 minutes. Add tomatoes and cook, stirring often, for 5 minutes. Add wine and 2 cups water and bring to a boil. Stir in mushrooms, thyme, and bay leaves and season with salt and pepper. Bring to a boil, reduce heat to medium-low, and simmer until mushrooms are tender, about 25 minutes. Transfer mushroom mixture to a bowl, stir in lemon and dill, and refrigerate until chilled. Serve mushrooms warm or at room temperature.