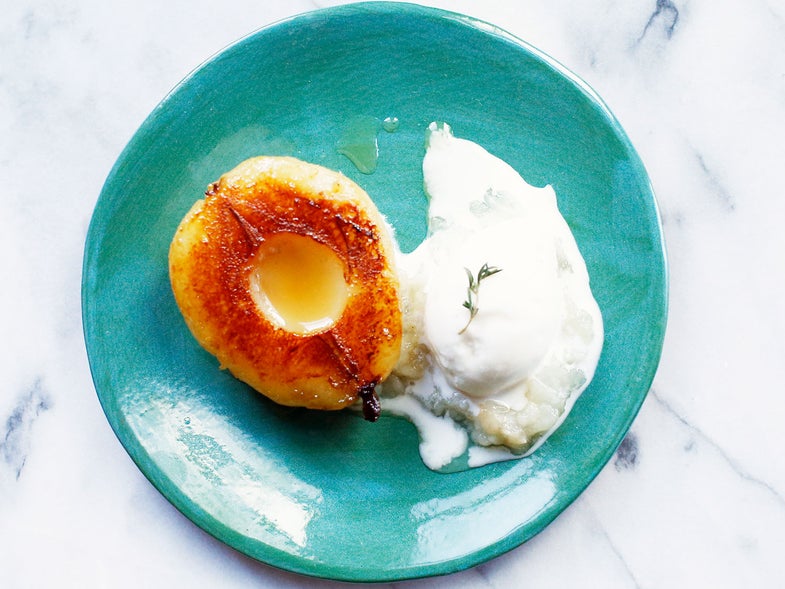 Chestnut Honey Pears
The comice pears called for in this preparation are widely available in the winter.
55 minutes
Ingredients
2 cups dry white wine
2 cups sugar
1 vanilla bean, split lengthwise
2 long strips orange zest
4 firm but ripe comice pears, peeled, halved, and cored
2 tbsp. chestnut honey
5 sprigs thyme
4 tbsp. cold unsalted butter, cubed
Kosher salt
1 cup vanilla ice cream
Instructions
Combine 6 cups water, wine, sugar, vanilla bean, and orange zest in a large pot and bring to a simmer over medium heat. Add pears and poach until tender, 5–10 minutes. Remove from heat and set aside, allowing pears to cool in poaching liquid. When cool, transfer pears to a plate. Pat dry with paper towels. Reserve poaching liquid and vanilla bean.
Heat a large skillet over medium-high heat until very warm, then add honey. Honey will bubble and foam, thinning out to coat bottom of the skillet, about 1 minute. Place 4 pear halves, cut-side down, in hot honey. Cook pears until caramelized, shaking skillet to prevent burning, about 6–8 minutes. Remove pears from skillet and set aside.
Add 1 cup poaching liquid, vanilla bean, and 1 sprig thyme to same skillet. Simmer until slightly thickened, about 5 minutes. Remove skillet from heat, whisk in butter, one cube at a time, then add a pinch of salt. Remove and discard vanilla bean and thyme and set sauce aside.
To serve, coarsely chop remaining 4 uncaramelized poached pear halves and divide between four plates. Place 1 caramelized pear half in center of each plate, then spoon sauce over pears. Add a small scoop of ice cream to each plate and garnish with remaining 4 sprigs of thyme.