Recipes
Grilled Chicken Skewers with Spicy Peanut Sauce and Sweet Chile-Soy Condiment (Sate Ayam dengan Saus Kacang dan Sambal Kecap)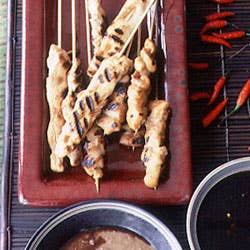 After testing many versions of this dish, we came back to this timeless one, from one of our favorite books, Pacific and Southeast Asian Cooking (Time-Life Books, 1970). Remember to make the kecap manis first because it will be used for the sate, peanut sauce and the sambal kecap (a chile and sweet soy sauce condiment).
Ingredients
For the Skewers
2 cloves garlic, peeled and minced
1 tsp. salt
2 pinches freshly ground white pepper
2 tbsp. kecap manis
Juice of 1 lime
2 whole boneless, skinless chicken breasts, cut into 1" × 3" strips, or 5 boneless, skinless chicken thighs, cut into 1" cubes
For the Peanut Sauce and Sambal Kecap
2 tbsp. vegetable oil
2 small shallots, peeled and finely chopped
1 large clove garlic, peeled and minced
1⁄4 tsp. shrimp paste
2 cups chicken stock
1⁄2 cup unsalted rosted peanuts, preferable Spanish peanuts, ground to a paste
1 tbsp. plus 1 cup kecap manis
1⁄4 tsp. grated fresh ginger
2 red thai chiles, stemmed and finely chopped, plus 4 red thai chiles, stemmed
1⁄2 tsp. dark brown sugar
Juice of 1/2 lime, plus 1/4 cup more
Instructions
Step 1
Marinate the chicken: Put garlic, salt, and pepper in a large bowl and mash into a paste with the back of a wooden spoon. Stir in kecap manis and lime juice, add chicken, and toss until well-coated. Cover, refrigerate, and allow to marinate for 2 hours.
Step 2
For the peanut sauce: Heat oil in a heavy medium pan over medium heat. Add shallots and garlic and cook until soft, about 3 minutes. Stir in shrimp paste, mashing with the back of a spoon, and cook for 1 minute. Add stock, bring to a boil, then stir in ground peanuts, 1 tbsp. kecap manis, ginger, chopped chiles, and brown sugar; simmer, stirring often, until sauce thickens to a loose paste, about 20 minutes. Keep sauce warm over low heat, adding the juice of half a lime just before serving. (Add a little water to thin sauce, if necessary.) Transfer sauce to a serving bowl.
Step 3
For the sambal kecap: Slice remaining chiles crosswise into thin rings and put into a small serving bowl. Add 1 cup kecap manis and 1⁄4 cup lime juice, mix well, and set aside.
Step 4
To serve: Preheat grill. Remove chicken from marinade and thread each piece of breast or several pieces of thigh onto about sixteen 6" bamboo skewers. Grill chicken over hot coals, turning to brown on both sides, until chicken is cooked through, 3-5 minutes. Serve with warm peanut sauce and sambal kecap.