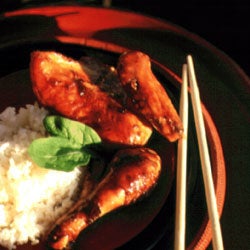 Piercing the skin allows the sauce to penetrate the meat and prevents shrinkage.
Chicken Teriyaki
Glazing the chicken with this classic Japanese sauce keeps the meat succulent and juicy.
Ingredients
1 tbsp. vegetable oil
4 pieces chicken, trimmed, skin pierced with a fork
1⁄2 cup <a href="https://www.saveur.com/article/Recipes/Teriyaki-Sauce">Teriyaki/ Sauce</a>
Instructions
Heat oil in a large skillet over high heat. Add chicken, skin side down. Reduce heat to medium; fry until skin is well browned, moving chicken to prevent sticking. Turn and fry, covered, for 10 minutes more; remove and set aside.
Add teriyaki sauce to juices in skillet. Bring to a boil, stirring constantly, over medium heat; continue cooking until sauce thickens slightly and takes on a luster, about 1 minute.
Return chicken to skillet; raise heat. Continue cooking, turning chicken several times to coat with sauce. When sauce is almost completely reduced, remove from heat and serve.