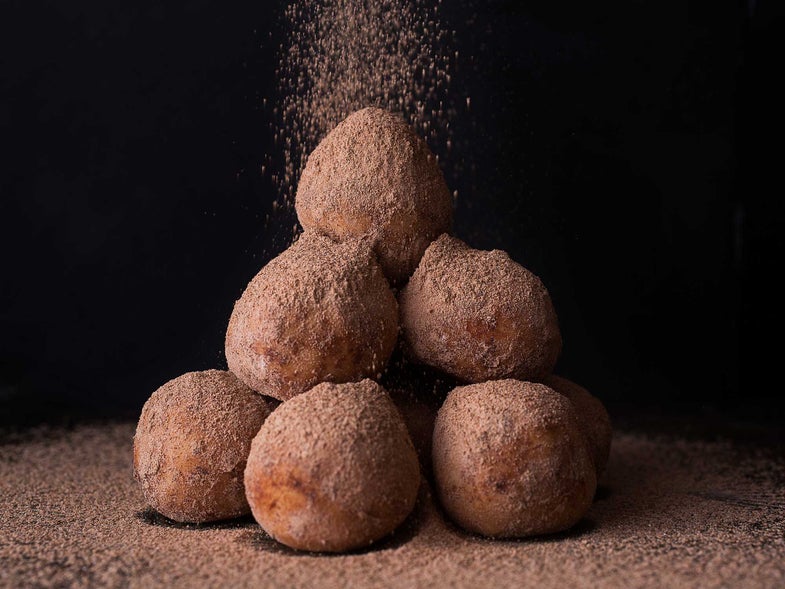 These "irish potatoes" are not what they would seem. This great recipe from Philadelphia's Moonstruck restaurant showcases the bite-size coconut cream balls rolled in cinnamon, sugar, and cocoa.
Yield: makes 20
Ingredients
1 1⁄2 cups unsweetened coconut flakes
1 3⁄4 cups confectioners' sugar
3 tbsp. heavy cream
1⁄2 tsp. vanilla extract
1 tsp. cocoa
2 tbsp. cinnamon
Instructions
Place coconut flakes in a food processor and pulse until finely chopped. Transfer coconut to a bowl, add 1 1⁄2 cups of the confectioners' sugar, heavy cream, vanilla, and mix well.
Spoon out about 1 tbsp. coconut mixture and roll it into a 1" ball. Repeat process with remaining mixture and set "potatoes" aside to rest for 1 hour.
Combine cocoa, cinnamon, and remaining 2 tbsp. of the confectioners' sugar in a small bowl. Dredge each "potato" in mixture and shake off excess. Cover with plastic wrap and store in refrigerator.