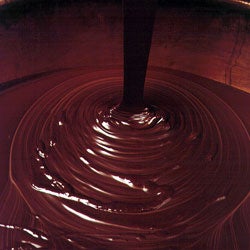 This rich, dark, decadent chocolate sauce is adapted from one we found in Maida Heatter's Book of Great Desserts (Random House, 1991).
Yield: makes 2 cups
Ingredients
1⁄2 cup half-and-half
1 cup sugar
2 oz. unsweetened chocolate, chopped
2 oz. bittersweet chocolate, chopped
8 tbsp. butter
2 egg yolks, lightly beaten
Instructions
Heat half-and-half and sugar together in a heavy saucepan over medium-low heat, stirring until sugar dissolves. Add chocolates and butter and whisk until smooth. Set aside to let cool briefly.
Stir in egg yolks and cook over low heat for 3 minutes, stirring constantly. Set aside to let cool slightly. Serve over or ice cream, if you like.