Recipes
Tom Roach's Heavenly Angel Food Cake
Named for its ethereal texture and pale crumb, this simple cake is the ideal cushion for juicy summer fruit.
Serves

8–10

Prep

20 minutes

Cook

1 hour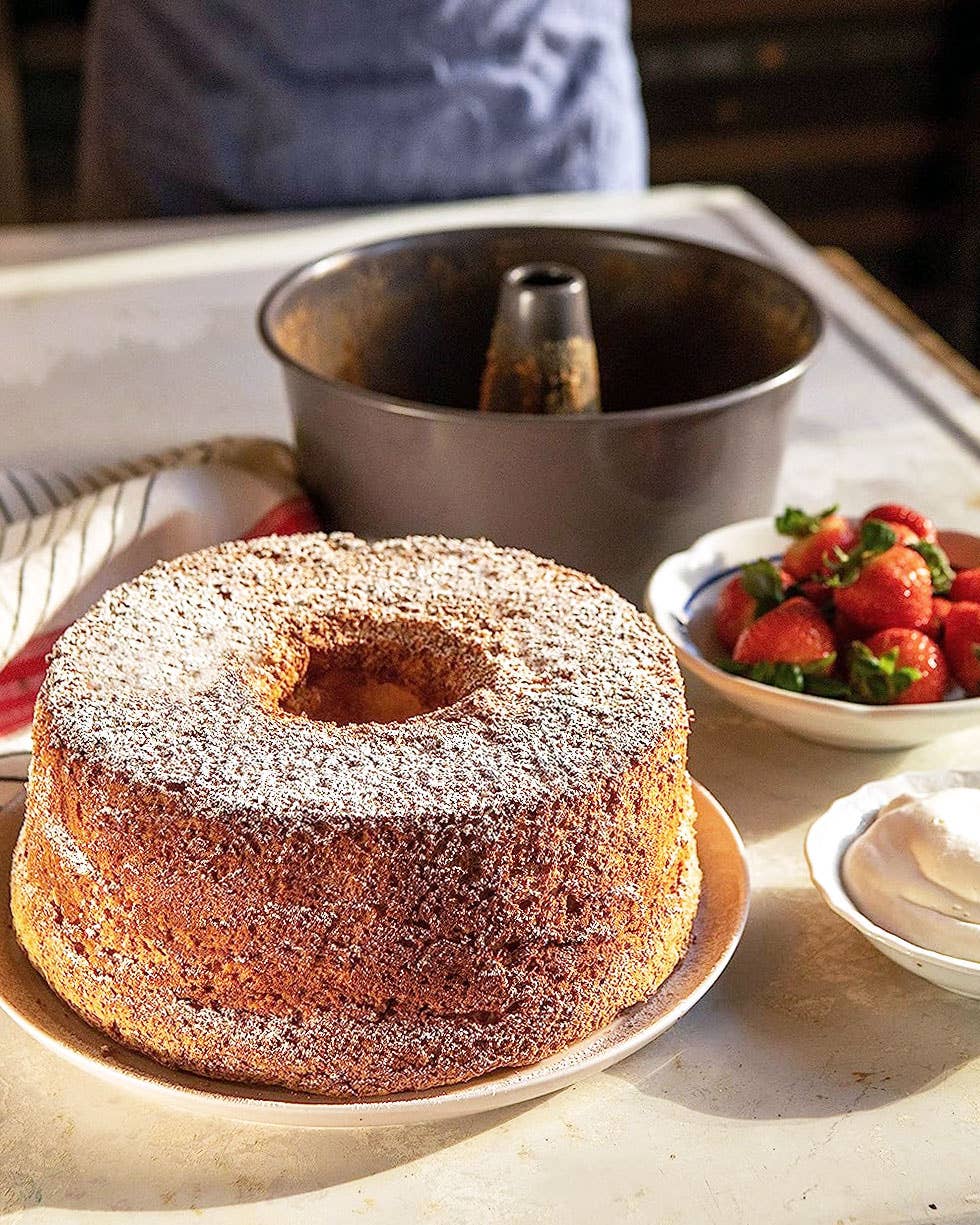 The late, great American cookbook author Marion Cunningham famously carried with her a photograph of a table loaded with angel food cakes, all slightly different: some tall, some short, some white and fluffy, some in a Bundt shape. The photo was taken at a meeting of the Baker's Dozen, a group of pro bakers including Alice Medrich and Carol Field who met regularly to exchange problems and solutions. Each of the cakes was baked by the members from the same recipe. "If all our results were this different," Cunningham sympathized, "think of the plight of the poor home cook." This recipe in question is this one, from "cookie baker for the stars," Tom Roach, adapted with a bit of Cunningham's gentle advice.
This recipe originally ran alongside Christopher Hirsheimer's 1999 article, Baking Lessons.
Ingredients
1½ cup sifted cake flour
1½ cup superfine sugar
1½ cup egg whites (from 11–12 large eggs)
1½ tsp. cream of tartar
1 tsp. vanilla extract
½ tsp. fine sea salt
Instructions
Step 1
Sift and measure flour. Add a third of the sugar and sift together three times. (
M.C. prefers 1

¼

 cups granulated sugar to 1½ cups superfine sugar, which she feels makes the cake too sweet. She sifts the flour by itself and adds sugar directly to the egg whites.
)
Step 2
Place into a large mixing bowl the egg whites, 2 tablespoons cold water, cream of tartar, vanilla, and salt—yes, all at once! Whip until barely stiff enough to hold a peak when the beater is lifted, but not dry. Gradually add the remaining sugar, 2–3 tablespoons at a time, whipping gently after each of the first few additions, then folding rather than beating towards the end. (M.C. sprinkles the sugar into the whites in four parts as she beats, until the whites are shiny and hold soft peaks.)
Step 3
Add the sifted flour and sugar, 3–4 tablespoons at a time, and fold gently until smooth after each addition. Pour the batter into an ungreased 10 tube pan and bake in a preheated 325°F oven about 1 hour. (M.C. sifts the flour into the egg whites as she's folding it in.)
Step 4
Invert the angel food cake and cool completely before removing from pan. (M.C.: Or invert the pan on a bottle until cake cools.)