Chicken with 40 Cloves of Garlic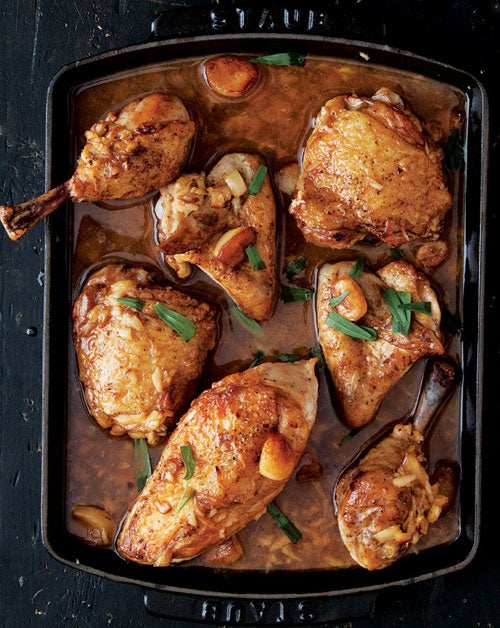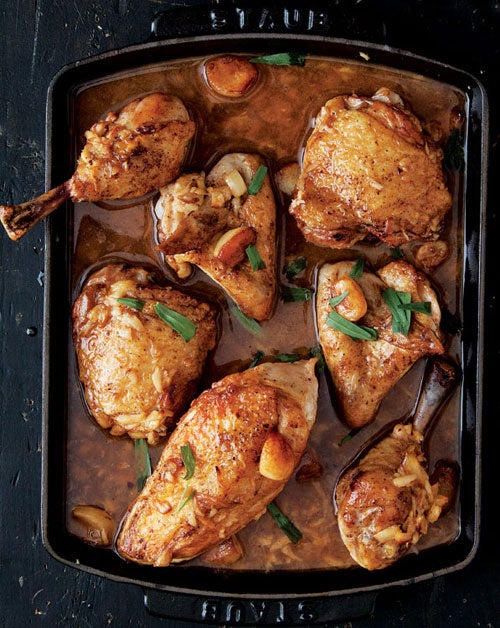 Over the years, I've played around with a number of different recipes for chicken with 40 cloves of garlic. In James Beard's, unpeeled garlic lends its aroma to chicken as it braises. In the great Staff Meals from Chanterelle (Workman, 2000), David Waltuck updates the recipe with peeled cloves, which impart a more intense garlic flavor. The recipe I've ultimately settled on uses peeled cloves, too, and once I remove the chicken from the pan I let the garlic keep cooking until the cloves have all but melted. Then, a quick spin with a whisk makes a smooth sauce well worth the effort of all that peeling. —Helen Rosner
Chicken with 40 Cloves of Garlic
In this version of chicken with 40 cloves, peeled garlic is cooked until it's all but melted, resulting in a velvety sauce to spoon over the bronzed chicken.
Ingredients
3 tbsp. olive oil
40 cloves garlic, peeled (you can use up to 100 cloves)
1 (3 to 4-lb.) chicken, cut into 8 pieces
1⁄2 cup dry vermouth
3⁄4 cup chicken stock
1 tbsp. chopped tarragon
Kosher salt and ground black pepper, to taste
Instructions
Heat oven to 350°. Heat oil in a 6-qt. Dutch oven over medium-high heat. Season chicken with salt and pepper; add to pot and cook, turning once, until browned, about 15 minutes. Transfer to an 8″ x 8″ baking dish; set aside. Add garlic to pot; cook until browned in spots, about 6 minutes. Add vermouth; cook, scraping bottom of pot, until slightly reduced, about 2 minutes. Add stock; boil. Transfer 1⁄4 of the garlic to baking dish; mash remaining into stock. Pour over chicken; bake until chicken is glazed and tender, 15 to 20 minutes. Garnish with tarragon.
See all 150 classic recipes featured in our 150th issue »
WATCH: How to Peel a Head of Garlic in Less Than 10 Seconds