Chicken and Sausage Gumbo
You will keep coming back to our best gumbo recipe: a vegetable-heavy Creole version with chicken and andouille sausage.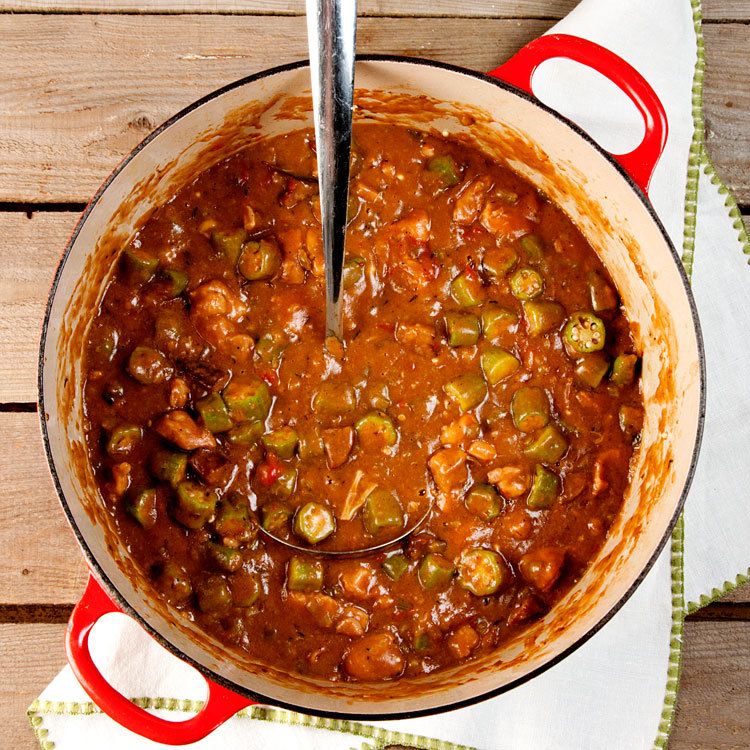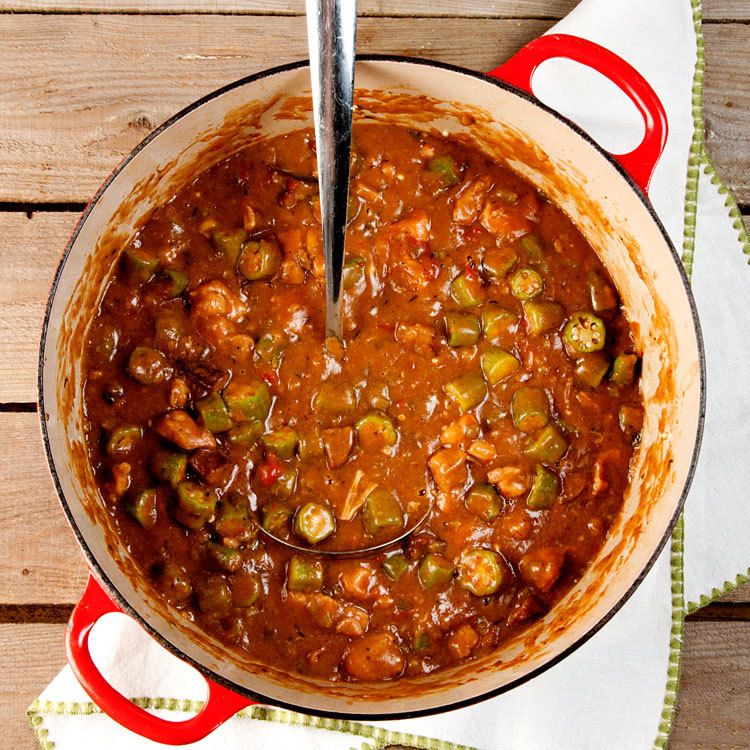 While opinions abound as to which of our classic gumbo recipes is the best, we keep coming back to this popular chicken and sausage version. In fact, this iconic Louisiana stew appeared in our collection of 150 Classic Recipes, which ran in Saveur's 150th issue in 2014.
The addition of tomatoes and okra suggests that this gumbo is Creole, though andouille sausage is more often associated with Cajun cooking. Don't sweat the provenance this time and just trust us that this is one of our very best.
During cooking, okra exudes a mucilaginous liquid that lends soups and stews a sumptuous, silky texture, but the backbone of this chicken and sausage gumbo is its roux, which is made by toasting flour in hot oil until it turns a deep red-brown. The roux both thickens the broth and adds a nutty flavor that compliments the smoky pork sausage. A little filé powder (made from dried sassafras leaves) incorporated at the end further enriches the dish and provides a faintly peppery, grassy bite.
See all 150 classic recipes featured in our 150th issue »
Equipment
Chicken and Sausage Gumbo
During cooking, okra exudes a thick liquid that gives this hearty Cajun stew a sumptuous, silky texture, enhanced further by the addition of filé powder.
Time: 1 hour, 45 minutes
Ingredients
1⁄2 cup canola oil
2 lb. bone-in, skin-on chicken thighs
Kosher salt and freshly ground black pepper, to taste
8 oz. andouille sausage, cut into 1/2″ pieces
4 slices bacon, cut into 1/2″ pieces
1 cup flour
2 ribs celery, finely chopped
1 small yellow onion, finely chopped
1 small green bell pepper, stemmed, seeded, and finely chopped
2 tsp. dried thyme
1 tsp. cayenne
6 canned, whole peeled tomatoes in juice, drained and crushed by hand
6 cloves garlic, finely chopped
1 bay leaf
10 oz. okra, trimmed and cut into 1/2″ slices
4 cups chicken stock
Cooked white rice, for serving
Hot sauce and filé powder, for serving
Instructions
Heat 1⁄4 cup oil in an 8-qt. Dutch oven over medium-high heat. Working in two batches, season chicken with salt and pepper, and add chicken to pot; cook, turning once, until lightly browned, about 12 minutes. Transfer to a plate. Add sausage and bacon, and cook, stirring, until their fat renders and bacon is browned, about 5 minutes; transfer to plate with chicken.
Add remaining oil, and reduce heat to medium-low; stir in flour, and cook, stirring constantly, until this mixture (called a roux) is the color of dark, reddish caramel, about 8 minutes. Add celery, onion, and pepper, and cook until soft, about 6 minutes. Add thyme, cayenne, tomatoes, garlic, and bay leaf, and cook for 3 minutes. Return chicken, sausage, and bacon to pot along with okra and stock, and bring to a boil over high heat; reduce heat to medium, and cook, stirring occasionally, until chicken is cooked through, okra is tender, and gumbo is thickened, about 30 minutes. Remove chicken from pot and let cool for 5 minutes. Remove and shred meat, and discard bones and skin; stir meat back into gumbo. Season with salt and pepper, and serve with white rice on the side. Serve with hot sauce and filé powder for sprinkling over each serving.