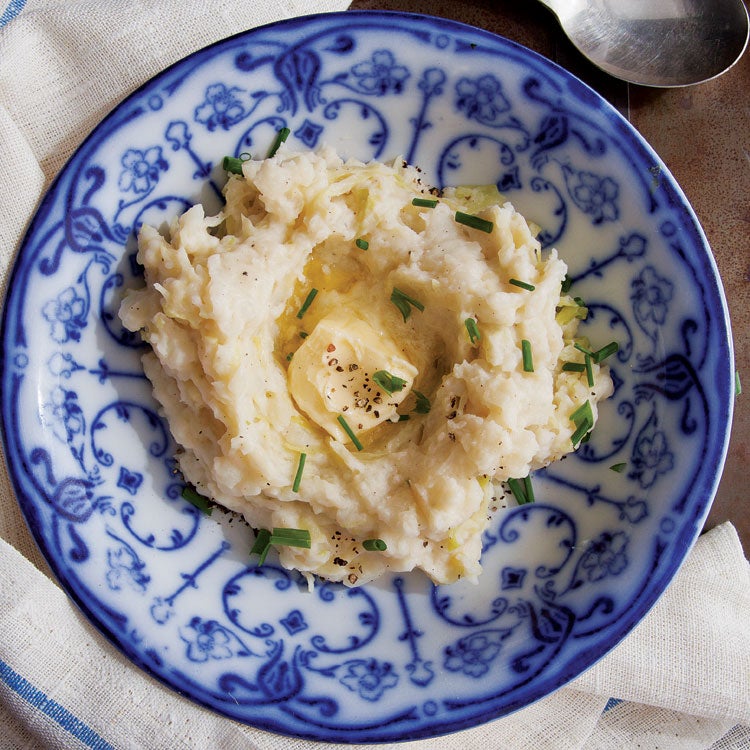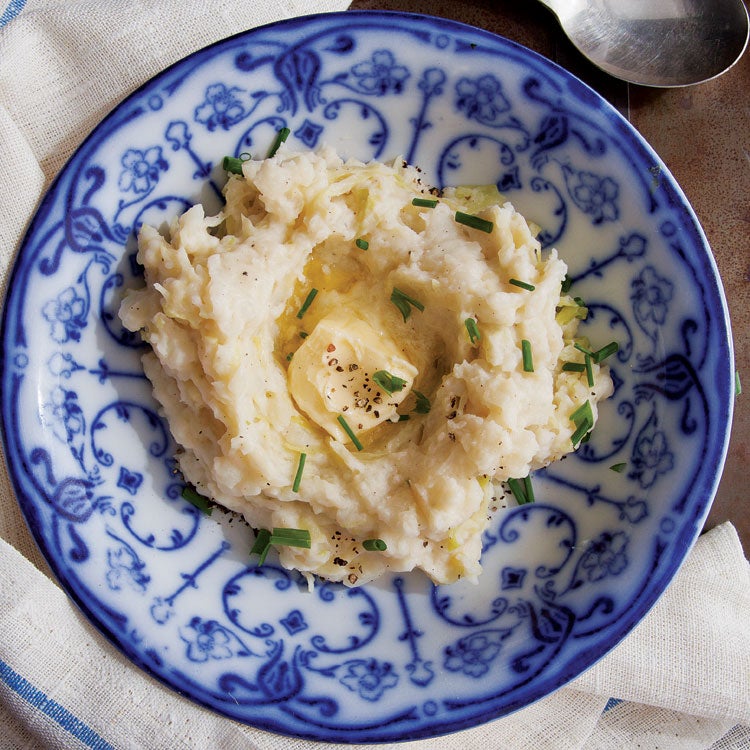 Leave it to the potato-loving Irish to dream up colcannon, spuds mashed with finely chopped cabbage and enriched with lots of cream. There are as many versions of this classic dish as there are Irishmen: Some cooks add carrots or kale to the mix, others incorporate butter, bacon, and caramelized onions. I recently tried a dairy-free version in Cashel, County Tipperary, where dark green cabbage was simmered in chicken stock and mashed with salted, boiled potatoes. Sacrilege? Probably. But still, so delicious. —Brenda Weaver, a Florida-based writer and illustrator
Colcannon
Leave it to the potato-loving Irish to dream up colcannon, spuds mashed with finely chopped cabbage and enriched with lots of cream.
Ingredients
2 1⁄2 lb. russet potatoes, peeled
8 tbsp. unsalted butter, plus more for serving
1⁄4 medium head green cabbage, cored and thinly shredded
1 cup milk
1⁄3 cup heavy cream
4 scallions, green parts only, finely chopped
Kosher salt and freshly ground black pepper, to taste
Instructions
Place potatoes in a 6-qt. saucepan and cover with water by 1″; bring to a boil over high heat, and cook until tender, about 30 minutes. Drain, quarter, and set aside. Return pan to medium-high heat, and add butter; when melted, add cabbage, and cook, stirring, until wilted, about 5 minutes. Add milk, cream, and scallions, and bring to a boil; add potatoes, and using a potato masher, mash and stir potatoes until smooth and evenly incorporated. Season with salt and pepper, and transfer to a bowl. Serve hot with large pats of butter on top.