Pescao en Escabeche (Maricel E. Presilla's Fish with Escabeche Sauce)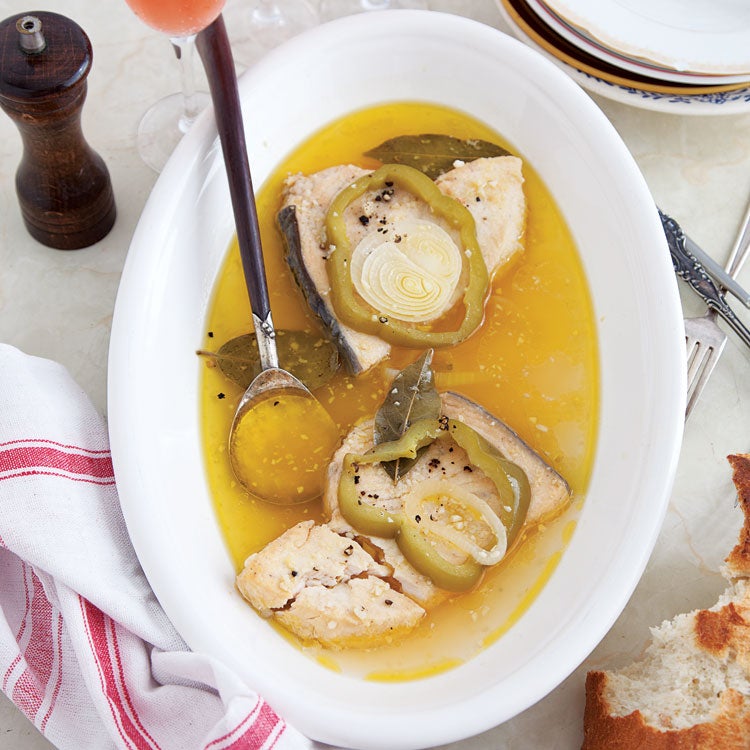 The cooks of Islamic Spain, or Al-Andalus, like the Romans before them, had a penchant for using vinegar-and-olive oil pickling sauces, or escabeches, to flavor and preserve everything from fish to vegetables. The technique survived the demise of Al-Andalus in Spain, as well as in many former Spanish colonies. In my native Cuba, escabeche was synonymous with sierra (sawfish), much appreciated for its firm, white flesh. You could go to any cafeteria or restaurant and always find on the countertop a large earthenware cazuela filled with fried sawfish steaks topped with an olive oil-and-vinegar pickling sauce. Cuban escabeches often resemble contemporary Iberian models, simply seasoned with garlic, sliced yellow onion and bell pepper, and some bay leaf. Because escabeches start with a sofrito, the iconic Spanish and Latin American flavor base subject to infinite permutations, it is not surprising to see that escabeches, too, vary tremendously across Latin America. But vinegar and olive oil remain the backbone of this singular, ocean-spanning technique. —Maricel E. Presilla, author of_ Gran Cocina Latina: The Food of Latin America _(W.W. Norton & Company, 2012)
Pescao en Escabeche (Maricel E. Presilla's Fish with Escabeche Sauce)
In Cuba, escabeche, a vinegar and olive-oil pickling sauce, is synonymous with sierra (sawfish), much appreciated for its firm, white flesh.
Ingredients
6 (8-oz.) swordfish steaks, cut ½″ thick
12 cloves garlic, minced
Kosher salt and freshly ground black pepper, to taste
2 cups flour
1 cup extra-virgin olive oil
4 bay leaves
2 large green bell peppers, stemmed, seeded, and cut into ¼″-thick rings
1 large yellow onion, cut into ¼″-thick rings
2 cups distilled white vinegar
Instructions
Rub fish with half the garlic, and season with salt and pepper on both sides; let sit for 20 minutes. Place flour in a shallow plate, and dredge each fish steak in flour to coat, shaking to remove excess.
Heat oil in a 12″ skillet over medium-high heat. Working in batches, add fish steaks, and cook, turning once, until browned on both sides and cooked through, about 5 minutes. Using a slotted spoon, transfer fish steaks to a serving bowl or platter; set aside. Add remaining garlic to oil, and cook, stirring, until golden brown, about 1 minute. Add bay leaves, peppers, and onion, and cook, stirring, until softened, about 4 minutes. Add vinegar, and bring to a boil; cook for 2 minutes. Pour over fish steaks and let sit at room temperature for 1 hour before serving.