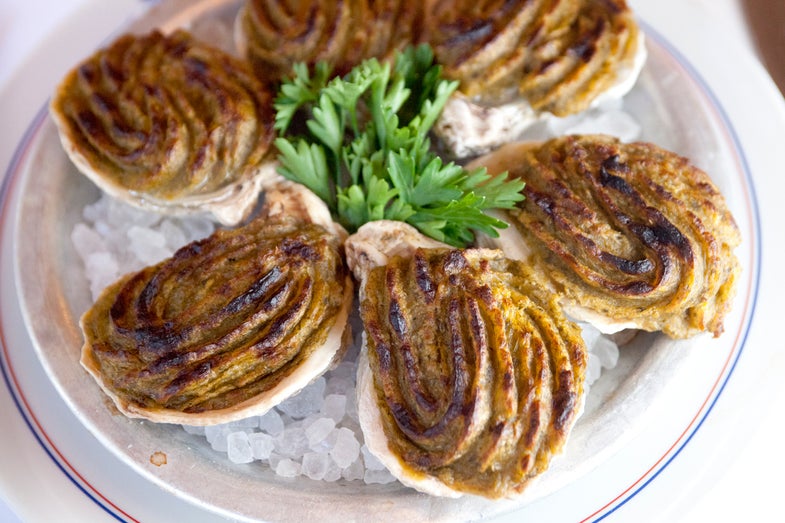 Oysters Rockefeller were created in New Orleans, at the legendary Antoine's. The restaurant refuses to give a recipe, but we do know that neither bacon nor spinach is involved. Instead, the oysters are topped with a roux full of herbs and vegetables, then combined with bread crumbs and broiled until the bivalves are tender and a delicate crust forms. —Kelly Alexander, from "Shell Game" (December 2002)
Oysters Rockefeller
Oysters Rockefeller were created in New Orleans, at the legendary Antoine's. The restaurant refuses to give a recipe, but we do know that neither bacon nor spinach is involved.
Ingredients
Rock salt, as needed
12 bluepoint oysters, chilled
4 tbsp. unsalted butter
4 tbsp. flour
1⁄4 tsp. cayenne
6 scallions, minced
2 ribs celery, minced
2 sprigs tarragon, stemmed and minced
1 bunch parsley, stemmed and minced, plus sprigs to garnish
Kosher salt and freshly ground white pepper, to taste
3 tbsp. fresh bread crumbs
Instructions
Fill 2 ovenproof baking dishes halfway with rock salt. Shuck oysters over a bowl to catch their liquor (you should have about 1⁄2 cup), discarding flat top shells. Loosen oysters from bottom shells with a knife. Nestle 6 shucked oysters in their shells into each bed of rock salt; chill.
Melt butter in a 2-qt. saucepan over medium heat. Add flour; cook until smooth, about 2 minutes. Add oyster liquor; cook until thickened to a paste, about 2 minutes. Stir in cayenne, scallions, celery, tarragon, parsley, and salt and pepper. Reduce heat to medium-low; cook until soft, about 1 hour. Transfer to a food processor, add bread crumbs, and process into a smooth paste, about 2 minutes.
Heat broiler to high. Place paste in a pastry bag fitted with a 1⁄2" fluted tip. Pipe paste completely over oysters. Broil until paste begins to brown and oysters are just cooked through, about 5-7 minutes. Garnish each dish with parsley sprigs, if you like.