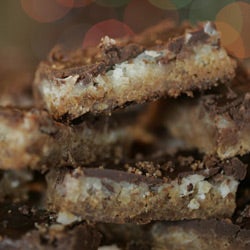 In this recipe, paraffin wax—a now mostly forgotten candy-making ingredient—is mixed with chocolate so that it will set properly when cooled and take on a shiny appearance.
Yield: makes 4 DOZEN
Ingredients
2 cups graham cracker crumbs
1⁄2 cups melted butter
1⁄2 cups sugar
2 cups sweetened shredded coconut
1 14-oz. can sweetened condensed milk
1 cup semisweet chocolate chips
1 tbsp. creamy peanut butter
1 oz. paraffin wax (roughly, a 2 1⁄2″ × 1″ × 1⁄2″ piece), shaved into small pieces with a knife
Instructions
Heat oven to 350°. Stir together graham cracker crumbs, butter, and sugar in a medium bowl. Transfer crumb mixture to a 9″ × 13″ baking pan and press down with your fingers to form an even layer. Bake until just golden around the edges, 10–12 minutes. Set aside.
Put coconut and condensed milk into a bowl and stir well. Transfer the coconut mixture to the baking pan and spread it out evenly over the hot crust. Return pan to oven and bake until golden brown around the edges, 15–17 minutes more. Set the pan aside to let cool completely.
Put chocolate chips, peanut butter, and paraffin wax into a medium pot and cook over medium-low heat, stirring constantly, until completely smooth, 3–4 minutes. Pour chocolate mixture over coconut layer in the pan and use a rubber spatula to spread out to the edges to form a thin layer. Set aside in a cool spot to let cool completely.
Cut the candy into 48 squares. Serve immediately or layer between sheets of wax paper in an airtight container and refrigerate for up to 2 weeks.