Guam-Style Chicken Salad (Kelaguen Mannok)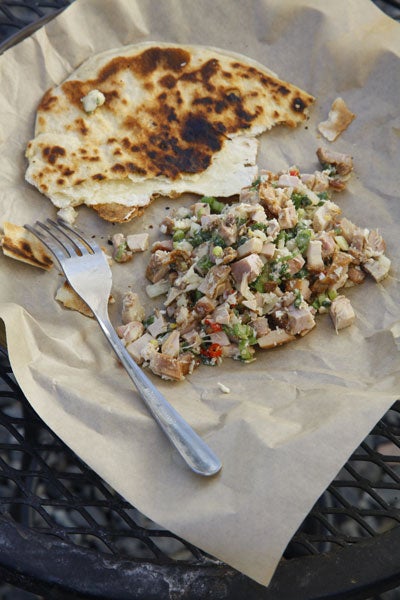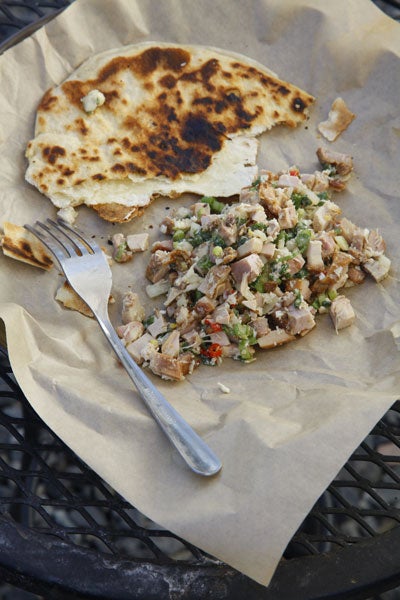 Marinated in cane vinegar and soy sauce, this succulent grilled chicken salad gets a dose of sweetness and heat from coconut and chiles. This chicken salad recipe first appeared in our June/July 2012 issue along with Dana Bowen's story Food of the People
Guam-Style Chicken Salad (Kelaguen Mannok)
Marinated in cane vinegar and soy sauce, this succulent grilled chicken salad gets a dose of sweetness from grated coconut and bite from fiery red chiles.
Ingredients
2 cups soy sauce
1 1⁄2 cups cane vinegar
1 tsp. freshly ground black pepper
1 small yellow onion, thinly sliced, plus 1 cup finely chopped
2 1⁄2 lb. boneless, skinless chicken thighs
4 cups thinly sliced scallions
1 1⁄2 cups unsweetened, grated coconut
1⁄4 cup fresh lemon juice
8 red Thai bird chiles, stemmed and thinly sliced
Toasted pita, for serving
Instructions
Combine soy sauce, vinegar, pepper, sliced onion, and 1 cup water in a large bowl; add chicken and cover bowl with plastic wrap. Refrigerate for at least 8 hours or overnight to marinate.
Build a medium-hot fire in a charcoal grill or heat a gas grill to medium-high. (Alternatively, heat a cast iron grill pan over medium-high heat.) Cook chicken, turning once, until just cooked through, about 8 minutes. Transfer to a cutting board and let cool; cut into 1⁄2" cubes and place in a large bowl. Add chopped onion, scallions, coconut, juice, and chiles, and toss to combine; let sit at room temperature for 1 hour to meld flavors. Serve with pita, if you like.