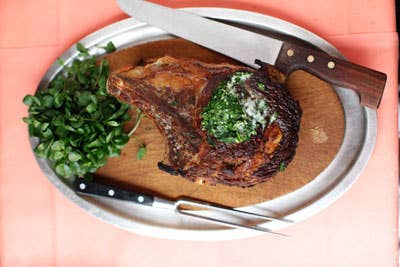 Recipes
Côte de Boeuf aux Beurre Maître d'Hôtel (Grilled Rib Eye Steak with Herb Butter)
Bistro chefs use compound butters— like this one, made with parsley and lemon juice—to enhance the flavor of a juicy steak.
8 tbsp. unsalted butter, softened
2 tbsp. minced flat-leaf parsley
2 tsp. fresh lemon juice
Kosher salt and freshly ground
black pepper, to taste
1 20-24-oz. bone-in beef rib eye
cut about 1 1⁄2" thick
1. Combine butter, parsley, and lemon juice in a small bowl and whisk vigorously with a fork. Season butter with salt and pepper and transfer to a sheet of wax paper. Roll butter into a 1 1⁄2" cylinder, tie ends with kitchen twine, and chill.
2. Season rib eye with salt and pepper. Build a medium-hot fire in a charcoal grill or heat a gas grill to medium-high heat. Grill rib eye, turning occasionally, until cooked to desired temperature, about 12 minutes for medium rare. Transfer steak to a serving platter. Slice butter into disks, reserving some for another use, and top steak with butter disks. Let steak rest for 5 minutes while the butter melts.