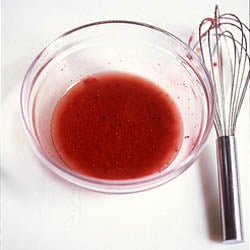 Frozen cranberries that have been thawed may be used if fresh aren't available.
Cranberry Oil
A tart, flavorful ruby-hued garnish to drizzle on soup, dips, bread, and even vegetables.
Ingredients
1 cup fresh cranberries
1⁄2 cup extra-virgin olive oil
Salt and freshly ground black pepper
Instructions
Put cranberries into a mortar and finely crush with pestle. Transfer to a small bowl, add oil, and stir to combine. Cover and refrigerate overnight.
The following day put cranberry mixture into a sieve set over a small bowl and gently press on solids with a rubber spatula to extract the red pulpy cranberry oil. Discard solids. Season to taste with salt and pepper. Whisk mixture before using.