Recipes
Crêpes Complètes de Blé Noir (Buckwheat Crêpes with Gruyère, Ham, and Egg)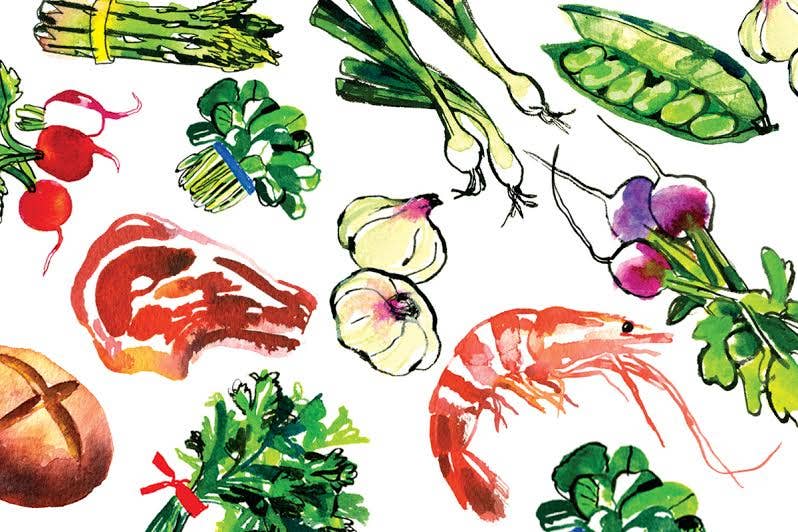 Corinne Sirhenry often tops her version of this crepe (which is wider in diameter than our home-style version) with thin slices of French andouille, a smoked pork sausage that is a distant cousin to the spicy Cajun andouille readily available in the U.S. Sirhenry uses only egg yolks in this delectable combination of ham, cheese, and egg: in the time it took for a whole egg to cook, the crepe would be dried out.
Ingredients
8 Tbsp. salted butter, preferably sea salt butter
2 cups milk
1 1⁄4 cups buckwheat flour
1⁄3 cup all-purpose flour
1⁄2 tsp. fine sea salt
9 egg yolks
8 thin slices ham
1 1⁄2 cups finely grated gruyère
Instructions
Step 1
Melt 2 tbsp. butter. Whisk butter with milk, flours, salt, and 1 egg yolk in a large bowl until smooth and elastic, about 2 minutes. Cover surface of batter with plastic wrap; chill for 12–24 hours.
Step 2
Remove batter from the refrigerator and stir well. Heat a well-seasoned 10 1⁄4" crêpe pan over medium heat and brush with a bit of the remaining butter, wiping off any excess. Pour about 1⁄4 cup batter onto pan, swirling it quickly to spread batter out to the edges. Cook until light golden and just crisp, about 2 minutes. Using a spatula, flip and cook until just light golden on the second side, about 2 minutes more. Spread a dab of the butter onto crêpe; top one half with a slice of ham, some gruyère, and 1 egg yolk. Continue cooking until yolk is just cooked, about 1 minute. Transfer crêpe to a plate and fold into quarters. Repeat process with remaining batter, butter, ham, gruyère, and egg yolks.