Recipes
Crustless Potato and Green Bean Tart (Polpettone di Patate e Fagiolini)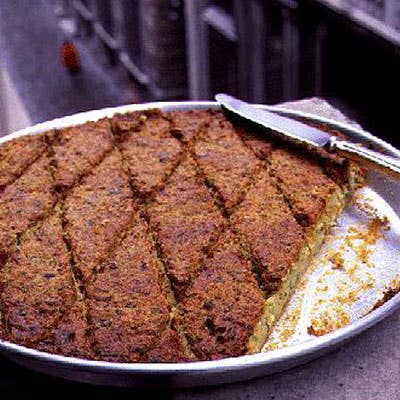 Polpetta is Italian for croquette; a polpettone is a big croquette—but in this case it is baked, not fried. This dish, which can be made from any number or combination of vegetables, is a classic example of Genoese home cooking.
Ingredients
1 lb. boiling potatoes, peeled and sliced
Salt
3⁄4 lb. green beans, trimmed
1 cup fine fresh bread crumbs
3⁄4 cup milk
1⁄4 cup extra-virgin olive oil
2 cloves garlic, peeled and minced
2 tbsp. finely chopped fresh oregano
2 tbsp. finely chopped fresh parsley
3⁄4 cup freshly grated parmigiano-reggiano
1⁄4 cup ricotta
4 eggs, lightly beaten
Freshly ground black pepper
Instructions
Step 1
Preheat oven to 350°. Place potatoes in a medium saucepan of salted water, simmer over medium-high heat until tender, about 20 minutes. Drain, mash with a fork (a few lumps are okay), and cover to keep warm. At the same time, bring an other medium saucepan of salted water to a boil over high heat. Add green beans and cook until tender, about 15 minutes. Drain, finely chop, and set aside.
Step 2
Soak bread crumbs in milk in a small bowl. Heat 2 tbsp. oil in a small skillet over medium heat. Add garlic and cook until fragrant, about 2 minutes. Add oregano, parsley, and green beans, and continue cooking until flavors blend, about 2 more minutes. Transfer to a large bowl and stir in potatoes. Add parmigiano-reggiano, ricotta, and eggs. Season with salt and pepper and mix thoroughly.
Step 3
Spoon potato mixture into a 8" x 11" rectangular or 12" round baking dish and smooth with spatula. Top with bread crumbs, score top, and bake until golden, about 40 minutes. Serve warm or at room temperature. Drizzle with remaining olive oil, if desired.