Recipes
Djaj Bil-Bahar Il-Asfar (Iraqi Yellow Spice-Rubbed Chicken)
Warming aromatics perfume this satisfying grilled bird.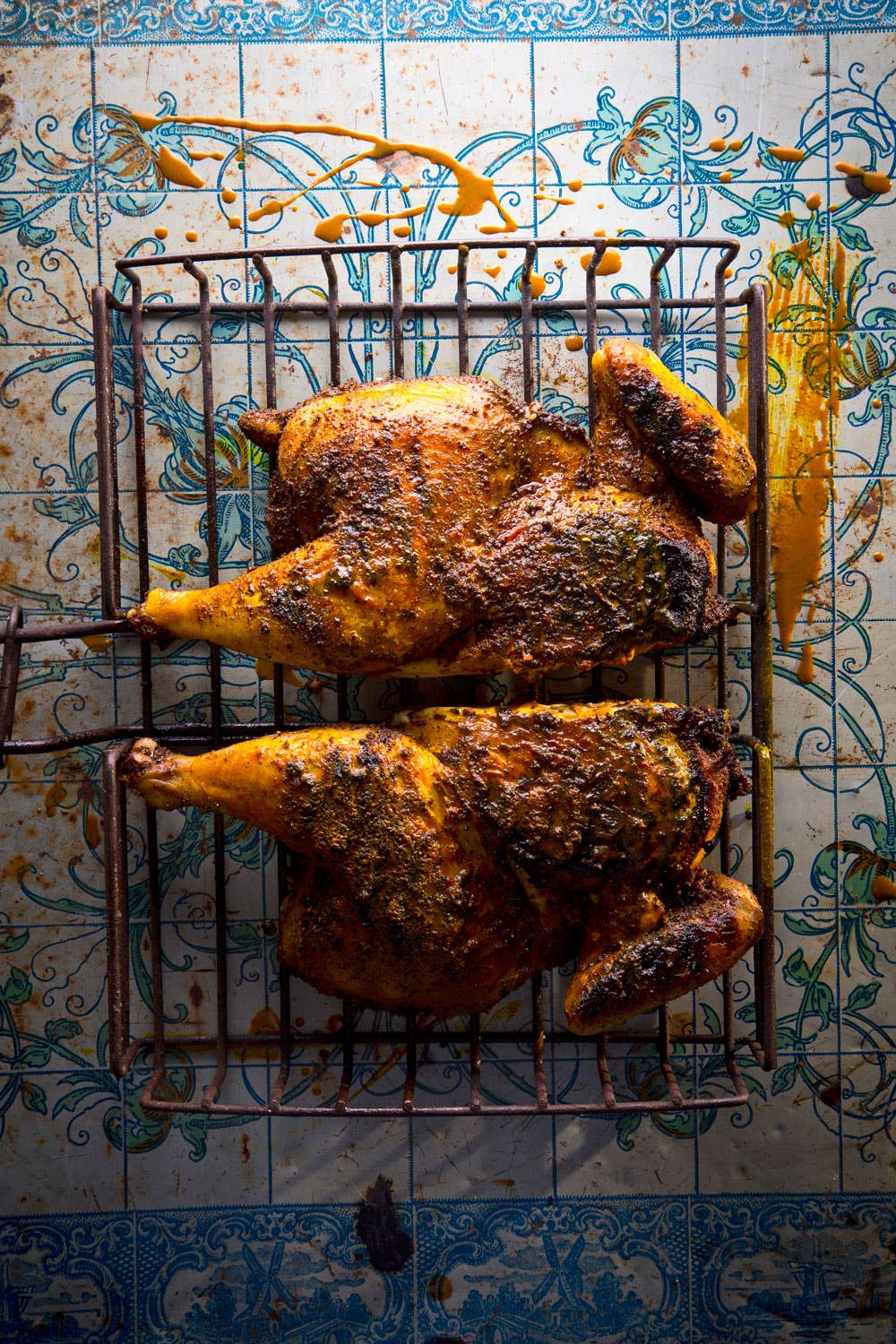 This fragrant spice-rubbed grilled chicken was a favorite of SAVEUR's former assistant editor Felicia Campbell when she was deployed to Iraq. This recipe first appeared in our June/July 2013 issue along with her article "Hearts and Minds."
Ingredients
2 tsp. coriander seeds
2 tsp. cumin seeds
2 tsp. whole black peppercorns
6 cardamom pods
4 dried chiles de árbol, stemmed
4 allspice berries
4 whole cloves
4 dried rose hips
1 tbsp. curry powder
1 tbsp. ground cinnamon
1 tbsp. ground sumac
2 tsp. ground ginger
1 1⁄2 tsp. freshly grated nutmeg
1 tsp. ground fenugreek
8 cloves garlic, mashed into a paste
Kosher salt and freshly ground black pepper, to taste
2 chicken halves (about 3 lb.)
Flatbread, such as naan, for serving
Instructions
Step 1
Heat coriander, cumin, peppercorns, cardamom, chiles, allspice, and cloves in a 10″ skillet over medium heat until seeds pop, 1-2 minutes; let cool. Transfer to a spice grinder with rose hips; grind and transfer to a bowl. Stir in curry, cinnamon, sumac, ginger, nutmeg, fenugreek, garlic, salt, and pepper; add chicken and toss to coat. Cover and refrigerate overnight.
Step 2
Heat a charcoal grill or set a gas grill to high; bank coals or turn burner off on one side. Grill chicken on hottest part of grill, flipping once, until slightly charred and cooked through, about 45 minutes or until an instant-read thermometer inserted into thickest part of thigh reads 165°. If outside starts to burn before chicken is cooked, move to cooler side of grill until done. Rest chicken 10 minutes; serve with flatbread.